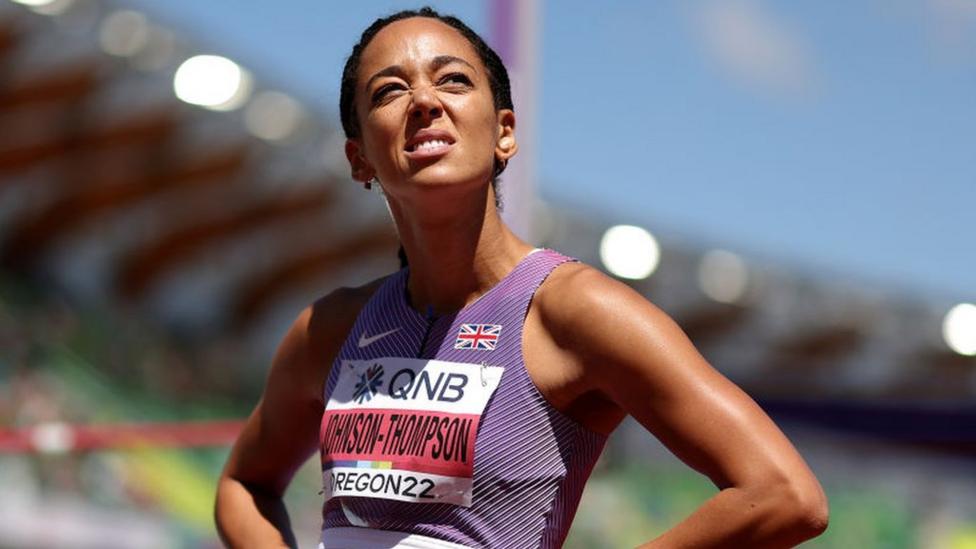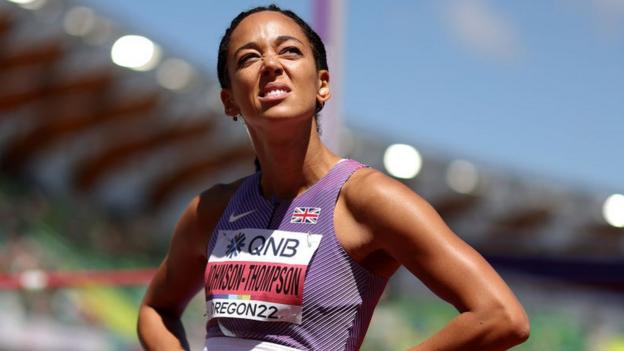 Venue:
Budapest
Dates:
19-27 August
Coverage:
Watch live on BBC One, BBC Two, BBC Three, BBC iPlayer, BBC Red Button, BBC Sport website and app; listen on BBC Radio 5 Live and BBC Sounds; live text on evening sessions.
"I think I bought into the fact that it was over for me," says Katarina Johnson-Thompson.
The 30-year-old has endured plenty of heartbreak since being crowned world champion four years ago.
First came the career-threatening Achilles rupture, eight months out from an Olympic Games postponed a year by the pandemic.
"With an injury that big, there are whispers around whether you can come back from that or ever be the same again," Johnson-Thompson tells BBC Sport.
"It's one of the worst injuries I could have had, on my take-off leg, when I thought I was gaining momentum and I was finally on to something after winning the Worlds.
"Given my strengths in heptathlon are the high jump and long jump, I felt I had lost my superpower – which is my spring."
Remarkably, with the help of her team, the Briton recovered in time for Tokyo.
Then came the sucker-punch.
In contention after three events, a calf injury sustained during the 200m ended Johnson-Thompson's medal aspirations.
Devastated and in pain as she writhed on the track, she refused medical assistance, instead limping down the home straight and forcing herself over the finish line.
"Covid, my Achilles injury and then the injury in Tokyo were three major things which made it feel like the universe was telling me to stop," says Johnson-Thompson.
"I was listening to it for sure.
"I've dealt with big losses in the past, I've dealt with big injuries, but nothing like that."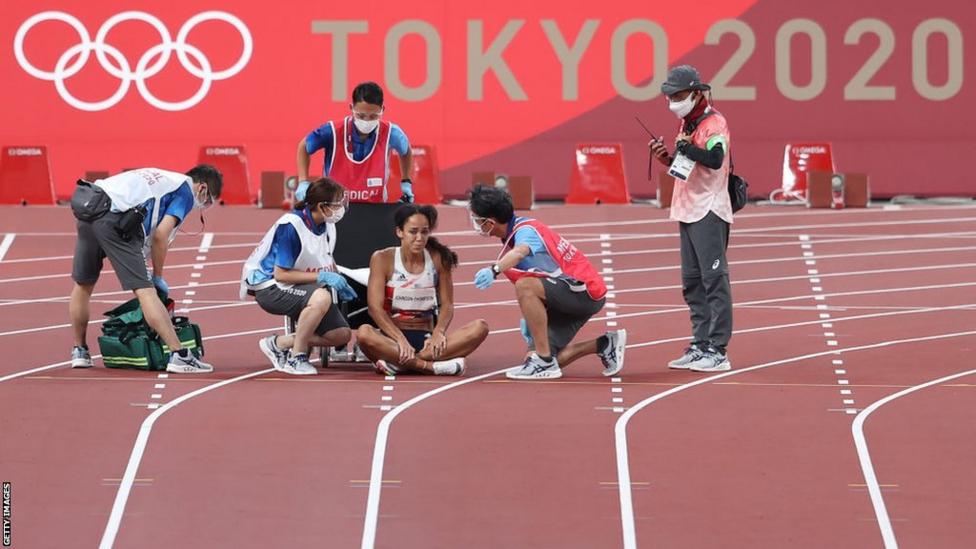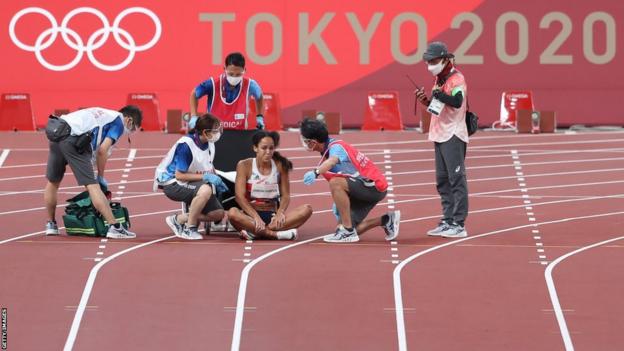 It was less than two years since Johnson-Thompson had scored 6,981 points in Doha to surpass Jessica Ennis-Hill's British record, overthrow reigning champion Nafi Thiam and end her wait for a first global outdoor title.
A World Championships in Eugene and a Commonwealth Games in Birmingham offered opportunity for another comeback last year.
But, initially, that was not a challenge Johnson-Thompson was mentally prepared for.
"Last year was a really strange time for me," she says.
"When I look at some of the footage, I can't really even remember it happening.
"I think coasting through 2022 was protective. I didn't want to commit myself to something just to get my heart broken again.
"I thought I could just get by. Clearly, with the results I put out, I couldn't. It's not something I'm proud of and I just want to forget that year completely."
Crucially, before the start of a two-year block headlined by this summer's World Championships in Budapest and the 2024 Olympics in Paris, the Liverpool Harriers athlete rediscovered her passion for the sport.
A disappointing eighth-place finish at the Worlds in mid-July last year proved the catalyst; her spark reignited as a home crowd inspired her to the successful defence of her Commonwealth title in early August – and international gold for the first time in three turbulent years.
"Being in Eugene as a spectator of the event was not something I enjoyed," says Johnson-Thompson.
"It definitely woke me up and the Commonwealth Games brought back so many good memories of winning titles.
"Last year wasn't me, I feel that in my core. This year I feel different."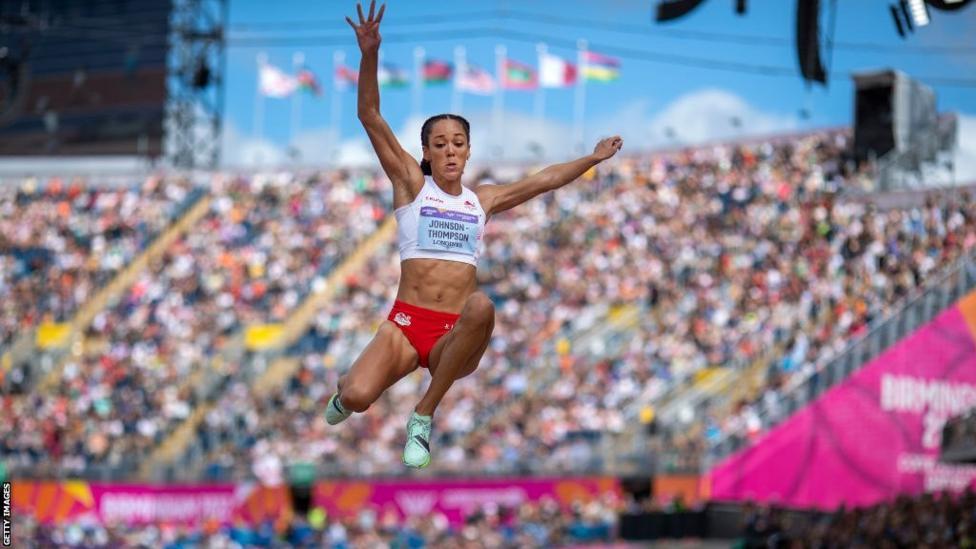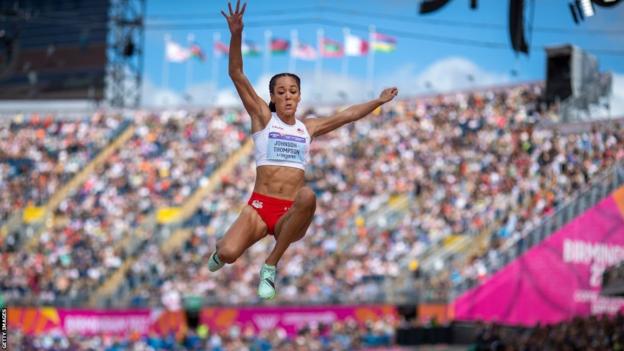 Desperate to prove she had shaken any lingering sense of indifference, Johnson-Thompson admits having been scared to open her season earlier this year.
But she need not have been.
The Briton will approach Budapest with quiet optimism after seeing "glimmers" of her old self on her heptathlon return at the Gotzis Hypo-Meeting in May, placing second to American Anna Hall.
Hall amassed the fifth-highest points total of all time and will start as the favourite in Budapest following the injury-enforced withdrawal of 2022 champion Thiam.
Johnson-Thompson, with 6,556 points in Gotzis, produced her best total since her world title-winning performance.
Under the guidance of new coach Aston Moore, she threw a shot put personal best in Austria and then jumped 6.60m in the long jump at the London Diamond League in July – 23cm further than her post-injury best.
"I would like to get back to where I was," says Johnson-Thompson, whose world title bid begins with the 100m hurdles on Saturday, 19 August.
"I don't want to chase the old me but I want to prove that I can compete with the best.
"The heptathlon this year is so strong and it is going to take world class performances in at least a couple of events to get the gold."
And while making the podium in Budapest is her immediate aim, Johnson-Thompson says targeting a first Olympic medal next summer remains the top priority.
"I've never won an Olympic medal," she says.
"That's something that is in the back of my mind for next year for sure, looking at the bigger picture.
"Obviously I want a world medal – but everything I'm doing this year, even the World Championships, is for Paris."