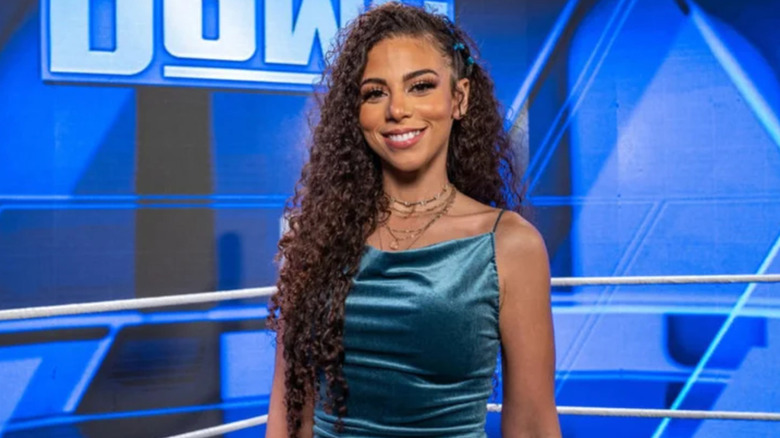 WWE
Prior to joining WWE in 2021, Samantha Irvin was focused on furthering her music career, but a random social media interaction with a WWE Hall of Famer soon pivoted that course though.
During a recent episode of "Out of Character," Irvin revealed how Mark Henry guided her into the world of WWE. Despite the COVID-19 pandemic stalling much of Irvin's music gigs, Henry somehow took notice of her work, and eventually, the two made contact on Twitter. 
"One day I woke up and Mark Henry was quote tweeting my pictures and my videos, and he was like, 'WWE is calling. Have you ever thought of getting into wrestling?'" Irvin recalled. "I called my brothers. I'm like, 'This is crazy.' I [then] messaged Mark Henry on Twitter and I was like, 'Uh, absolutely, 100% yes. I am not an athlete. I don't really know what I could contribute, but I'll do anything for it.' So he said, 'Okay, well, I can get you a tryout. That's basically what I'd be able to do, and then once you get in the door, then you can just kind of let people know maybe what you'd be interested in doing. But would you do a tryout?' And I was like, 'Yeah.'"
Outside of her love for music, Irvin stated that she was also a huge WWE fan as well. Before signing with the company, Irvin said she always envisioned working with WWE in some capacity, whether it be singing the national anthem or appearing as a celebrity guest.
Thanks to "The World's Strongest Man," though, Irvin received the opportunity to bring her vocal talents to WWE as a ring announcer. While Irvin has yet to meet Henry in person, he continues to offer Irvin valuable advice as she builds her identity as the ring announcer of "WWE Raw."
If you use any quotes from this article, please credit "Out of Character" with a H/T to Wrestling Inc. for the transcription.