READ MORE – LIGHTS TO FLAG: Rubens Barrichello on Schumacher, Ferrari, the Brawn adventure, and his racing exploits after F1
Finnish roots
Perhaps unsurprising for a Finn the world of rallying first sparked Kovalainen's interest in motorsport. Kovalainen recalls "watching the Peugeots and Lancias" during the closing years of the WRC's Group B era, while his own father participated in local-level rallying.
A family friend had a go-kart and six-year-old Kovalainen was eager to try it out.
"We went to a nearby car park as we didn't have a circuit, and I did a couple of loops around and I thought it was quite cool," he said.
Kovalainen pursued circuit competition and it went from "a bit of a hobby" during the early years to a serious career avenue.
"The first time that I went overseas with the go-kart was in 1997, in Sweden, I had an accident there and broke my leg. Not a good start! But a couple of years after that I was with the pro team, in Sweden, and spent a lot of time there and went to the races in Europe."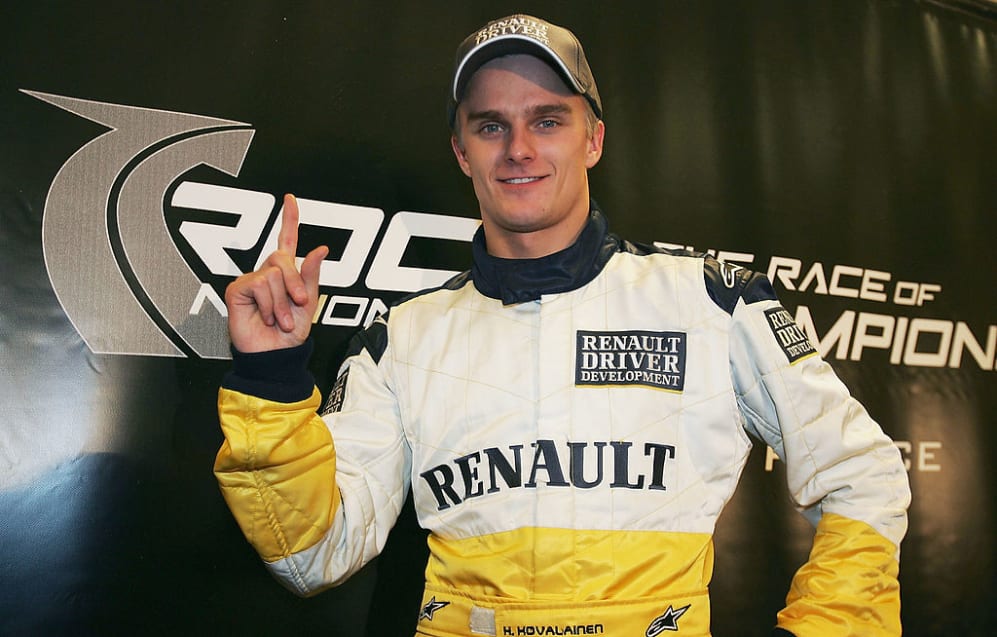 Kovalainen competed in Formula Renault UK in 2001 and the following year joined the manufacturer's driver development programme. His junior career went from strength-to-strength, finishing runner-up in World Series by Nissan in 2003, before taking the title in 2004, and in 2005 he was classified second to Nico Rosberg in the new GP2 Series.
Kovalainen also amassed valuable Formula 1 mileage in an era of unlimited testing, running for both Minardi and Renault in 2003.
"I did some straight-line tests and shakedowns. I spent a lot of time doing starts – we went to Santa Pod quite often and did a lot of launches there," he said. "I got to know the team very early on, it wasn't only a junior programme, but I spent a lot of time at Enstone."
READ MORE – LIGHTS TO FLAG: Mika Hakkinen on his horrific Adelaide accident, beating Michael Schumacher, and life after F1
From tester to racer
Kovalainen became Renault's full-time test driver in 2006, completing almost 50 days in the R26, as back-up to reigning champion Fernando Alonso and veteran Giancarlo Fisichella.
Alonso had already signed a 2007 McLaren deal in December 2005 so Renault – and Kovalainen, and manager/team boss Flavio Briatore – knew in advance that there was an opening.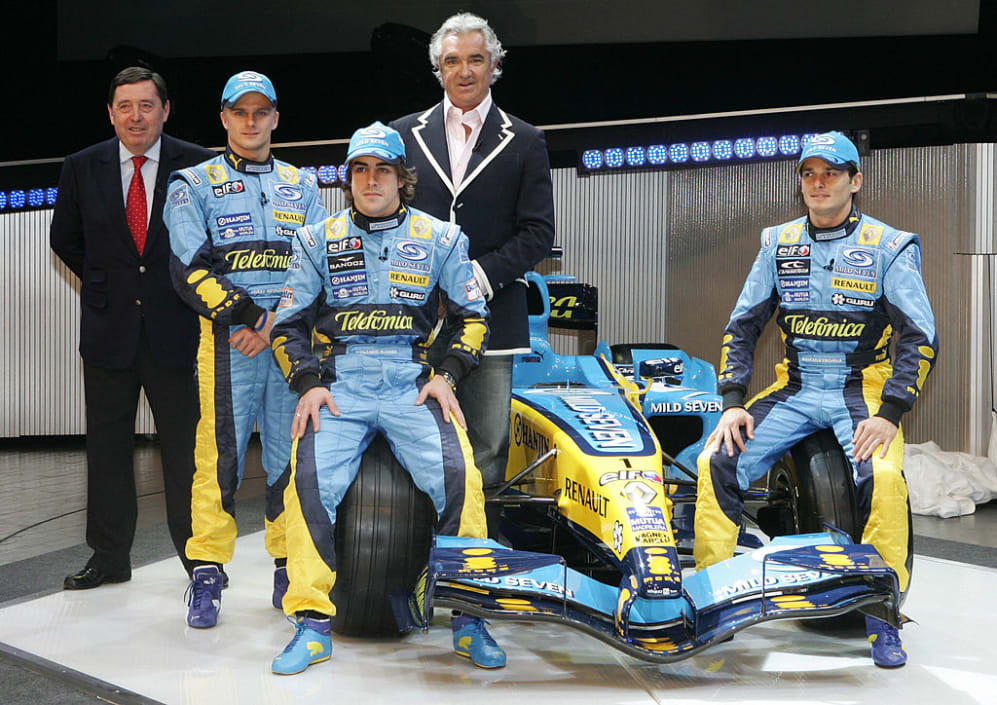 "Clearly when I joined as a test driver it was obvious the target was to step up to the race drive at some point," he said. "We had a test in the middle of the year at Barcelona and Flavio quietly told me this is a test where… he didn't exactly say 'it's a shootout' but he said to focus on this one particularly well and try and do good runs."
Kovalainen duly impressed and for 2007 the rookie joined a team that were reigning double champions. But they faltered with the development of its R27.
Kovalainen spun on his debut in Australia, receiving a public rebuke from Briatore, and scored points only twice across the first five races. A qualifying crash in Canada proved another setback.
READ MORE: From Hamilton and Villeneuve to Schumacher and Senna – The best rookie seasons in F1 history
"It was much tougher than I anticipated," said Kovalainen. "The car wasn't quite as good as the previous car, so we were behind the target in terms of aero performance and other parameters. I was struggling quite a lot with that car from the beginning and the way the car behaved was quite nervous, quite snappy.
"I always like a lot of front grip but also need the car to be stable and it was very difficult to adapt to that car as it was quite unstable. Quite early on I lost a bit of confidence and it became a bit of a battle. Flavio and all the management… I think their patience was right on the limit after qualifying in Montreal."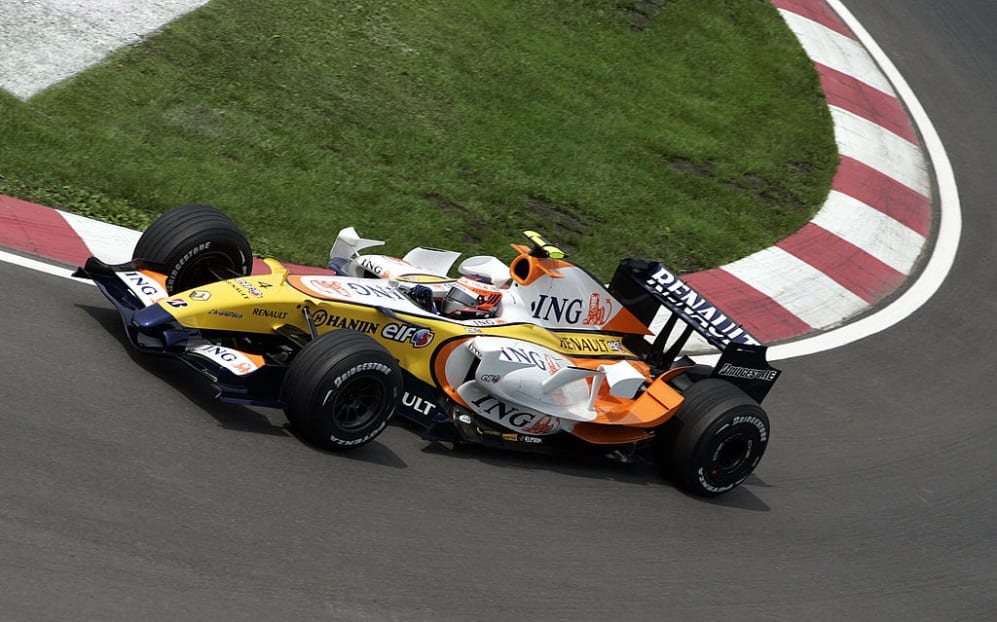 Kovalainen rebounded in an eventful race to score fourth – his best result – and followed it up with fifth a week later at Indianapolis. Six successive top eight finishes followed once Formula 1 returned to Europe.
"Luckily things turned around after that and I managed to do some results and get going, and towards the end of the season it got a lot better," he explained. "We found a better window of the car and also I found my own confidence back and turned things back on track."
READ MORE – LIGHTS TO FLAG: Coulthard on replacing Senna, dealing with Ron Dennis, and racing against Hakkinen
A Fuji surprise
In 2007 Formula 1's Japanese round switched from Suzuka to Fuji Speedway and Renault was "struggling all weekend", with Kovalainen qualifying only 12th.
"I suffered a lot with jet lag there, and I was basically awake all week," Kovalainen says.
Race day dawned to torrential rain.
"I drove the car to the grid on that slippery circuit and I couldn't keep up with anyone," he says. "I felt I had no grip. I was so annoyed and puzzled, as I usually enjoyed rain. I told my engineer that everyone drove past me on the way to the grid, it's going to be a disaster, but I'll try and keep going.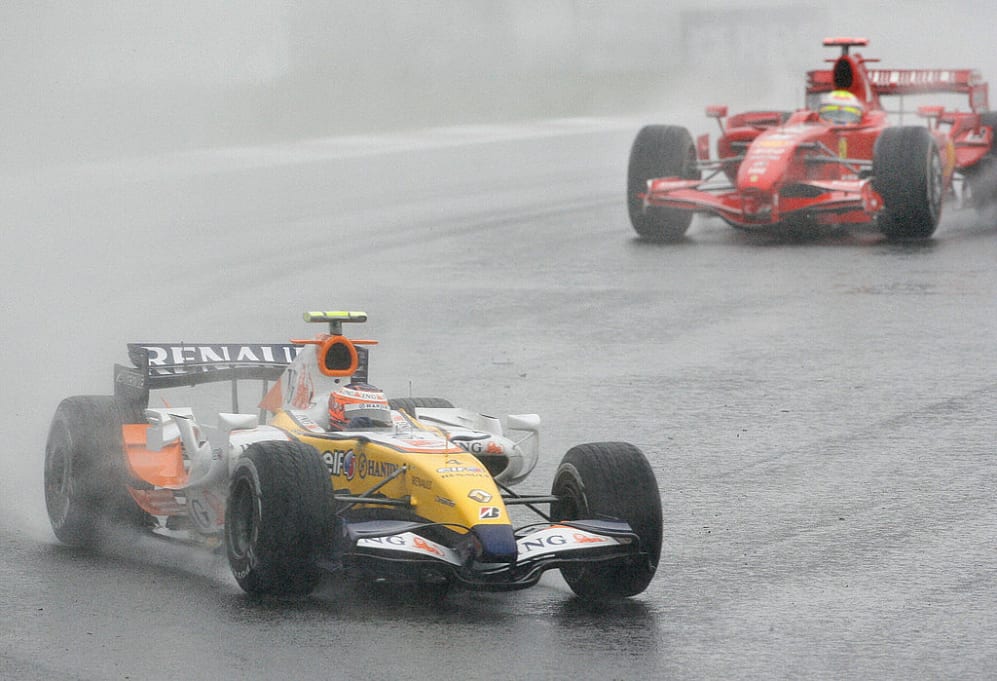 "The race started behind the Safety Car for 20 laps and I started to feel sick. We were weaving, slowing down, keeping brakes warm, I was almost vomiting inside the helmet and I had to stop weaving for a bit as I felt terrible. Eventually we got going, and it started to feel immediately better. I was following the queue and I thought 'okay this is going better than I thought.'"
Rivals fell by the wayside amid a slew of incidents but Kovalainen avoided trouble to emerge in second.
READ MORE – LIGHTS TO FLAG: How 1979 F1 champion Jody Scheckter 'hustled' his way to F1 and ended up farming
"I was fighting on the last lap with Kimi [Räikkönen] for the podium, he passed me into the left-hander but I got him back on the exit and stayed ahead," said Kovalainen. "It was such a weird result after such a bizarre week, everything felt like it was going wrong: I wasn't feeling well, everything felt against myself and the team.
"Flavio had already left in the middle of the race to catch his flight back; I guess he didn't hold a lot of hope in the middle of the race, when we were sixth or seventh or something! He called me after the race to say 'nice race, sorry I wasn't there!'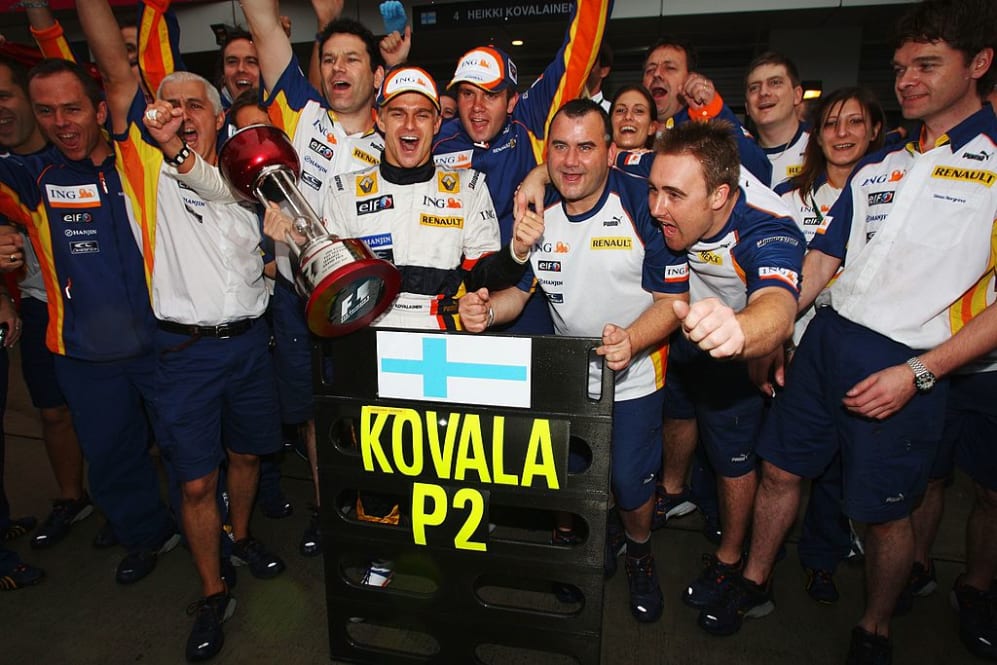 A swap with Alonso
Kovalainen's podium was a boost but Briatore had already earmarked Nelson Piquet Jr. for 2008 while Alonso's deteriorating relationship with McLaren meant their severance was likely.
"It was clear Flavio was going to put [Alonso] back at Renault, so suddenly there was no seat for me," said Kovalainen.
Briatore pinpointed Toyota for Kovalainen. "I was very happy about that, it seemed a good place to be, and the team seemed like it was on the right track."
READ MORE: From Hamilton's crystal ball to Mansell's McLaren nightmare… 5 bold driver moves that paid off – and 5 that didn't
Yet once Alonso's split was concluded it opened a space at McLaren, and Ron Dennis was keen to take Kovalainen.
"I remember Flavio saying to me you have to call Toyota yourself because we've agreed with Toyota and we don't really want to bail out now, so you have to explain to them! So I called John Howlett, boss of Toyota, and said 'look I'm so sorry I have an option for McLaren, I have to go for that'. He agreed, and the deal with McLaren was done really quickly."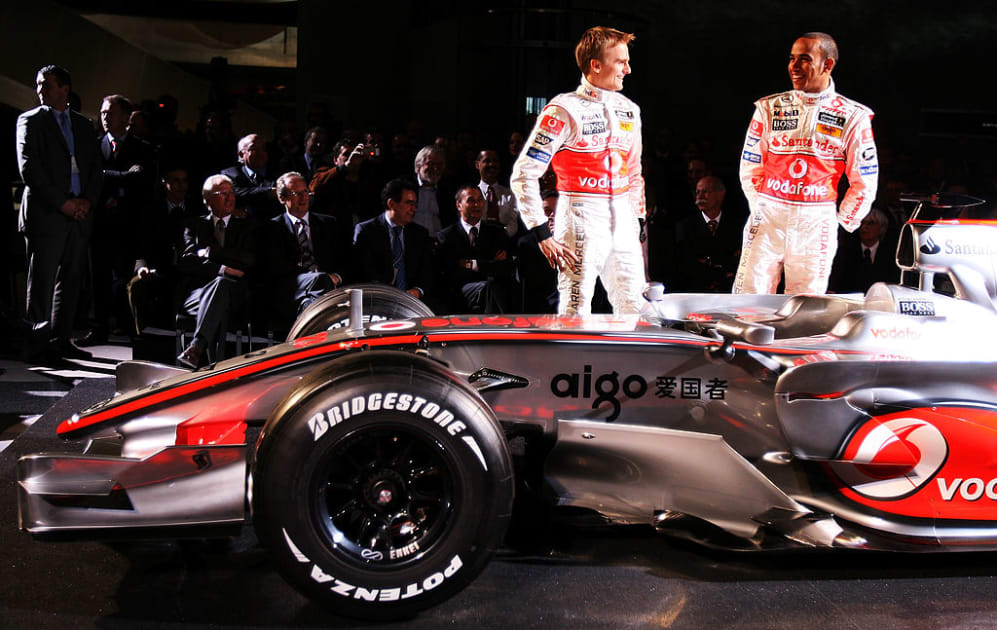 Kovalainen joined a team that "was a bit more serious and business-like" than Renault but immediately felt at home. "I focus on small details and am quite methodical; I found a friendly but hard-working team and thought this was such a great option."
Kovalainen partnered fellow sophomore Lewis Hamilton but had a mixed campaign.
An ill-timed Safety Car in Australia skewered Kovalainen's strategy and turned a possible win into fifth. A podium followed in Malaysia but he was then fortunate to escape with only mild concussion after a sizeable accident through Barcelona's Turn 9 when the left-front tyre failed. In Turkey a front-row start – when Kovalainen was fuelled heavily and in a prime spot – was squandered after a first-lap puncture.
WATCH: From one man's dream to serial title winners – The origins of the McLaren F1 team
Kovalainen claimed his maiden win in Hungary, but only after a puncture thwarted Hamilton, and an engine failure stopped dominant leader Felipe Massa.
"I should really have been third, I was gifted the victory," says Kovalainen with brutal honesty.
"Of course it was a nice feeling, there's no style points, so it doesn't matter how you win a race and get there, so it was satisfying but at the same time I was mindful I needed more performance and Lewis was a tiny bit quicker all the time.
F1's one-win wonders: Heikki Kovalainen
"I didn't have the high emotions of the win because it wasn't like I disappeared into the distance and destroyed everyone. We had a good chance of winning in Istanbul, at Fuji the gearbox went, and I was in a position to win there – so there were races I drove better and had a better performance and could have won.
"Hungary wasn't a particularly great performance, so it was an average day, even though I won. It was still nice to get that win off the back of the mind."
WATCH: From Panis's Monaco magic to Maldonado's Barcelona brilliance – F1's top 10 'one win wonders'
McLaren slump, Kovalainen slides
McLaren entered 2009 with the #1 and #2 on their MP4-24s after Hamilton's last-gasp title triumph – but confidence quickly subsided.
"Over the winter we all thought the car was going to be really quick, better than the 2008 car, relatively speaking to the opposition," said Kovalainen. "We went to the first test in Barcelona and realised we were two seconds off the pace and were like 'wow, our targets are obviously way too low'. The car was not behaving well."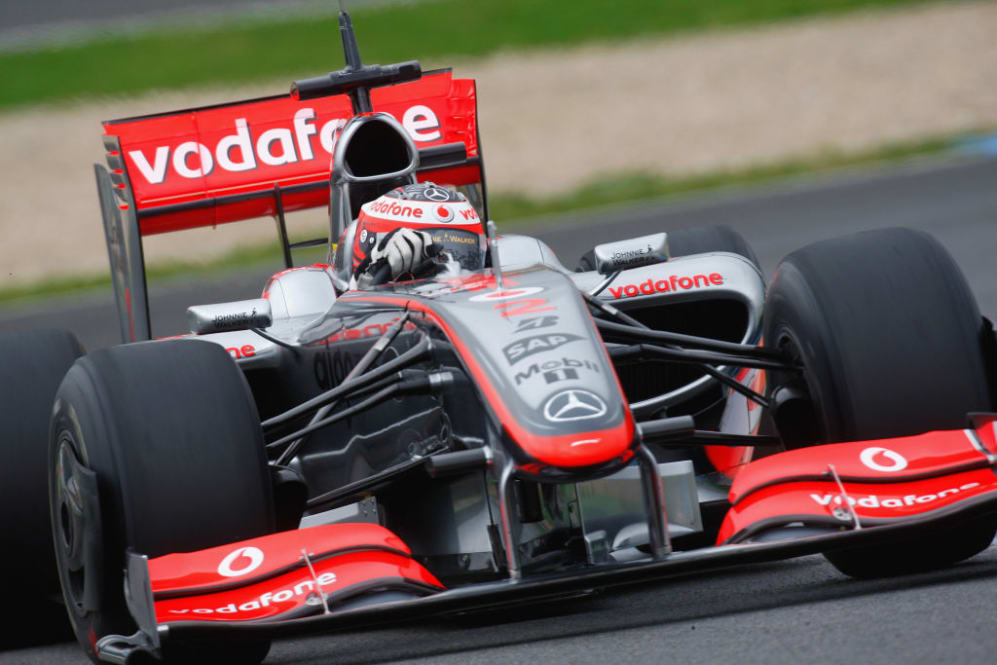 Midway through the year Hamilton was only 11th in the standings, Kovalainen just 13th, with one points finish from eight races. A heavily revised car was introduced in Germany, and Hamilton thrived, winning in Hungary and Singapore to surge to fifth overall. Kovalainen scored points but wound up a lacklustre 12th in the championship.
"I never found that next level with that car, it was quite clear middle of the year things weren't going well," he says. "I could feel the talk in the paddock was that people were looking at my seat, and it probably affected me. Towards the end of 2009 were the worst performances I'd done in my career.
READ MORE: 'He's got special sensors in his a***!' – Kovalainen on why he struggled to match ex-team mate Hamilton
I let it get to me, I got distracted and frustrated. I probably should have tried to grind on and focus on my own performances and that if I couldn't beat Lewis I should have focused on being close to him and bring the points to the team.
"I didn't do the best I could, and that's one of the seasons I feel like I let myself down a bit."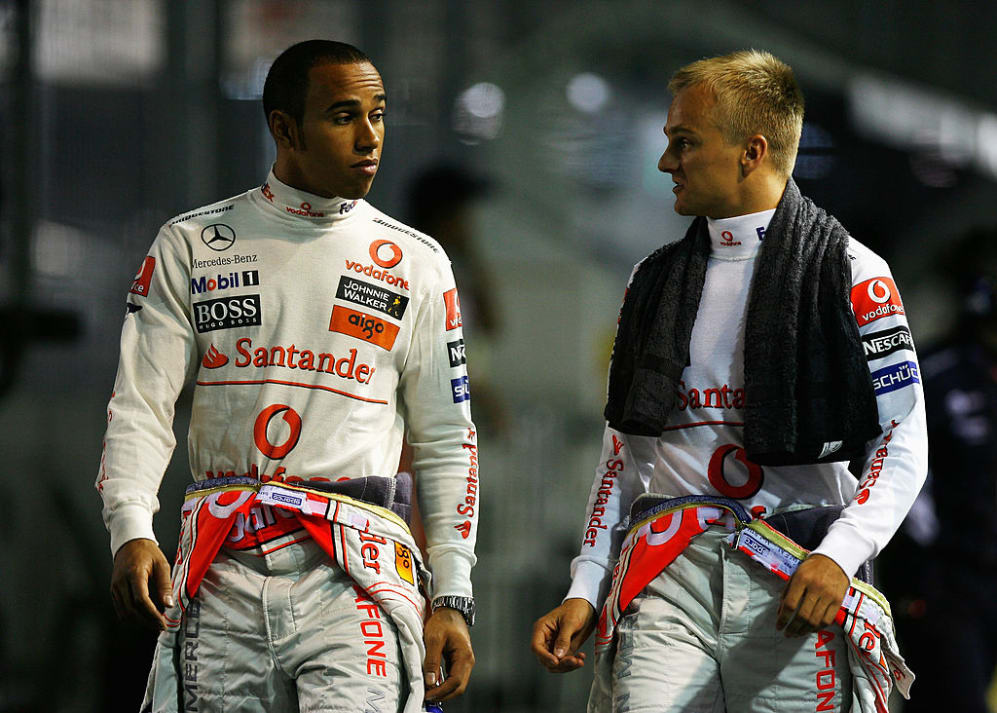 To a new team, via complications
Kovalainen's negative spiral coincided with the aftermath of the 'Crashgate' scandal, where Briatore was facing a lifetime ban from Formula 1.
"The drivers under contract with Flavio were not going to be granted a Super Licence," Kovalainen reflects.
There was to be an influx of new teams for 2010, including Lotus Racing, founded by Malaysian businessman Tony Fernandes, enticed by the promise of a cost cap – eventually abandoned – and technical support.
READ MORE:'He was determined to be the best that day' – Hamilton's mesmerising first home win remembered by team mate Kovalainen
"To sign that deal I needed to sign it myself and I decided to terminate the management contract with Flavio," said Kovalainen. "It was a complicated time – I was worried I'd lose the Lotus opportunity if I waited until the beginning of 2010 so I took it into my own hands and signed the contract myself."
Kovalainen secured a multi-year Lotus Racing deal but in early January 2010 Briatore's lifetime ban was lifted.
"The one single biggest mistake was terminating the management contract with Flavio," Kovalainen concedes. "I should have trusted him and his management company to sort things out. They probably would have been able to get me better options and probably would have been able to extend my Formula 1 career longer."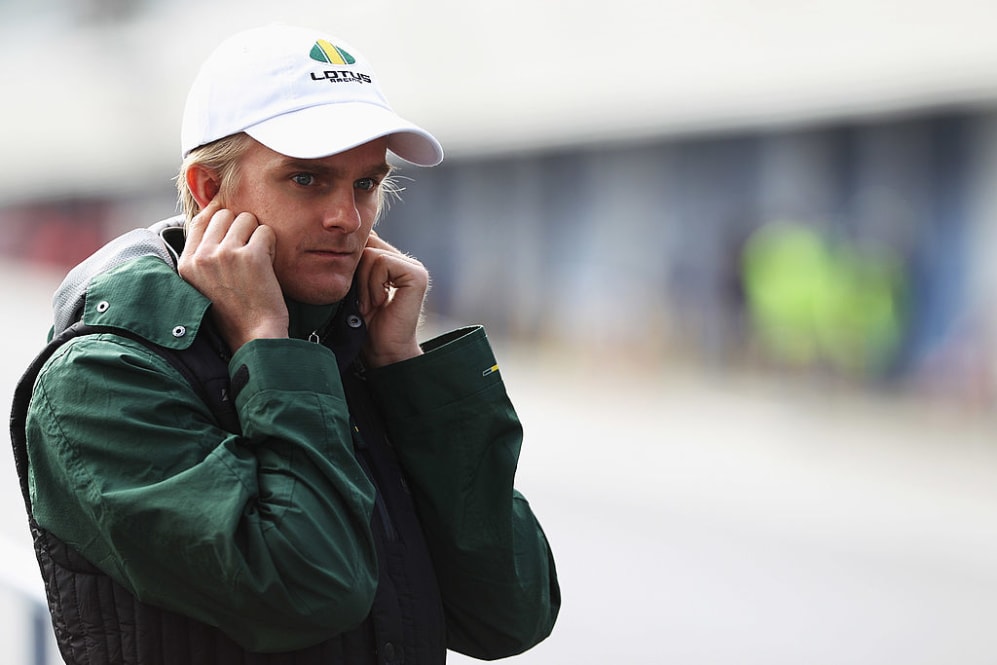 Lotus Racing emerged adrift of the midfield but the best of the three new teams. Kovalainen was the fastest of the backmarkers, taking a best of 12th, in Japan, to seal 10th in the Constructors' championship.
"It was quite a rough landing when I went to visit them the first time," said Kovalainen. "The team was still building up, nothing was ready, going from McLaren was like night and day.
"Initially it went okay; the performance wasn't very good, but we were ahead of the other new teams, and I felt I was driving better again, so my performances were better, so I thought it would be a platform to re-launch my career.
BEYOND THE GRID: Karun Chandhok on defying the F1 odds, chaos at Lotus and designing his own racetracks
"But then the team didn't make progress and the shareholders and the owners probably lost a bit of faith and cut a bit of funding and the whole thing went backwards, I went down with the team, we lost the momentum after the first year."
Lotus morphed into Caterham after 2011 but they stagnated, and sporadic Q2 appearances were the high point of the seasons. Kovalainen relinquished his race seat after a 2012 campaign in which he peaked with 13th position.
F1 VAULT: Singapore 2010 – Heikki Kovalainen puts out his burning car
"At the end of 2012 Tony told me he had to take drivers with budget for 2013, but he'd treat it like a year off for the team, and try to really build up for 2014," Kovalainen said.
Kovalainen "had my doubts already" over that pledge, prospective investors never materialised, and after a few FP1 outings in 2013 "could see that the team was not making any steps forward and it was quite clear it was the beginning of the end of that story."
READ MORE – ORAL HISTORY: The inside story of Sebastian Vettel's first Formula 1 point on debut in the 2007 US GP
Last chance at Enstone
An opportunity arose when Räikkönen missed the final two events of 2013 for back surgery and Kovalainen was drafted in by Enstone – now operating, confusingly, as Lotus.
Kovalainen performed adeptly "but in both races the start went really badly, they had a different system to select the pre-start revs and I couldn't optimise the launches," condemning him to successive 14th place finishes. Options for 2014 dwindled.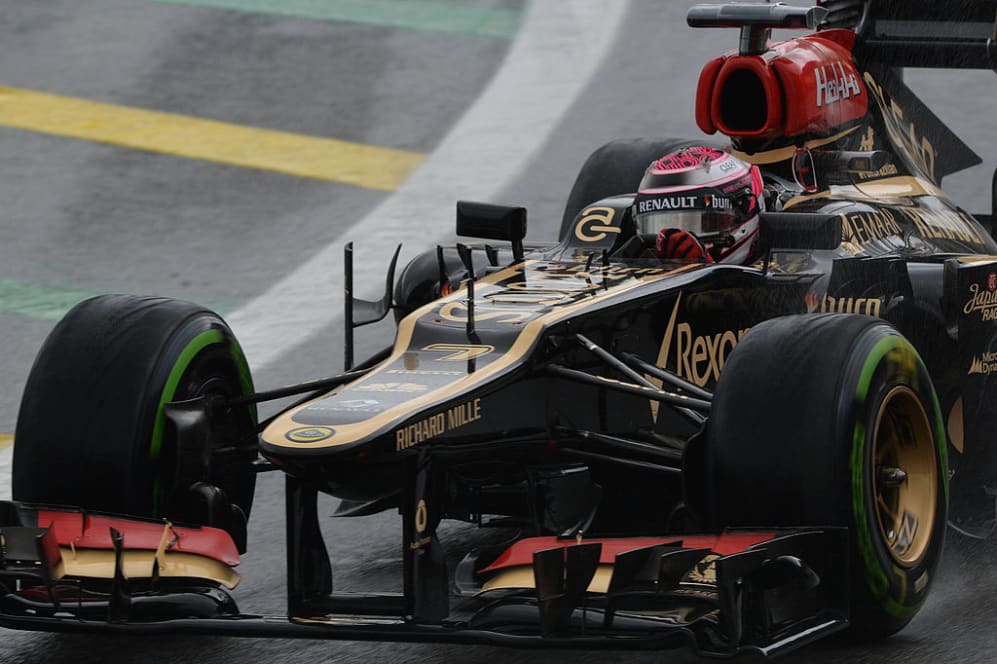 "At Lotus Eric [Boullier] said there was no seat available, and with Tony at the beginning of 2014 he said there was nothing at Caterham," said Kovalainen.
It proved to be the end of the road in Formula 1 for the Finn.
"The career stopped earlier than I wanted, and it was tough to get to terms with that," he said.
"It took some time to adjust to that, not to go to Melbourne, not to be there at all, it was quite strange. I went to Mercedes' simulator, I did a run there, Lewis was actually the one who organised it, but it never led to anything."
READ MORE – UNDERDOG TALES: When Bianchi charged to the points with minnows Marussia and made an everlasting mark on F1
Onwards to Japan
Kovalainen joined Japan's Super GT Series in 2015, with Lexus, and it proved a successful move, as he won the 2016 title.
"They're modern race cars, and with the manufacturers I didn't have to worry about having sufficient budget," he says. "It doesn't mean a big salary or big backing, but you never had to worry about the bills being paid. I enjoyed being in Japan, the people are very friendly, and very reliable.
Heikki Kovalainen takes pole at 2008 British Grand Prix
"The first year I translated my contract, as it was in Japanese, but after that every year I never translated it, I just checked the numbers and dates, asked if it was the same, they said yes, I never had to worry that they'd done any modifications or small print!"
Increasing workload, test days and advancement of simulators meant it "got to the point where I would have needed to move to Japan full-time, and I wasn't willing to do that." And so Kovalainen left Super GT after 2021, bringing his circuit-based career to a close – but not his competitive fire.
"During the GT years I did one-off rallies every now and then," he says, eyes lighting up.
READ MORE – UNDERDOG TALES: When Fisichella put Force India on top of the world with a Spa weekend to remember
"This passion for rallying has grown, and I was still motivated. There was an opportunity to do rallying in Japan, it's a much easier schedule – 7/8 events with very little testing."
Kovalainen won last year's All-Japan Rally Championship and contested WRC Rally Japan, finishing fourth in the WRC2 category. He has also started competing in Finland, on the gravel and snow.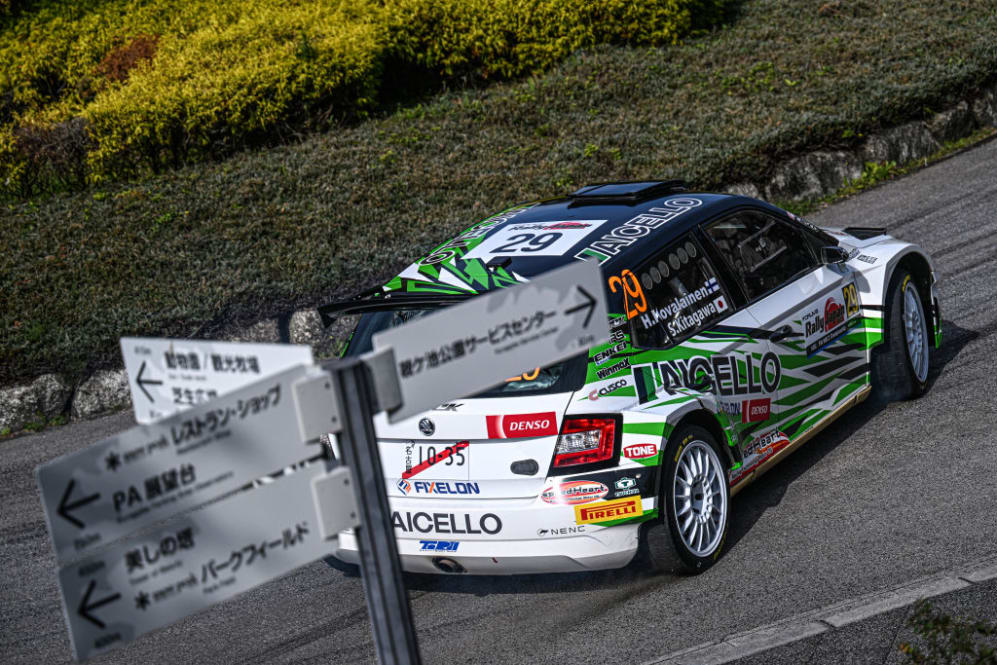 "I got to know the Japanese roads a lot – funnily enough I have more local knowledge there than in Finland! This year I continued to rally in Japan and I'll be doing the WRC round again.
"It's something I'm passionate about, I know I'm not going to be a world champion there, but I'm still motivated and fit and well, so I don't see any reason why not to pursue a career there a bit and see how it goes. Maybe next year I'll be in Japan, Finland or both, I don't know, but I'm enjoying it."
READ MORE – ORAL HISTORY: The inside story of Kimi Raikkonen's legendary first F1 test
Reflecting on F1
Kovalainen, now 41, is firmly into the next chapter of his career, and life, after he and his wife welcomed their first child this summer. It has been almost a decade since the last of his 112 grands prix, which yielded a pole, a victory, and four podiums.
"I didn't get all the potential out of myself that was there, it just didn't work out for various reasons," he said, while stressing he has largely positive memories.
Oops! Error retrieving Twitter post
"I won events in pretty much all the categories I've entered: rallying, GT cars, Formula 1, all the junior cars, but obviously the Formula 1 World Championship is one that's missing, which is disappointing.
"But, in the end, the people I worked with, I feel that they enjoyed working with me. I've been a good team player, even though I had some tough times, I hope – and think – they do feel like they enjoyed working with me, which is important for me.
"The results were not as good as I hoped but I still made a lot of friends, and I value that as well very highly – so in the end it's all pretty good."