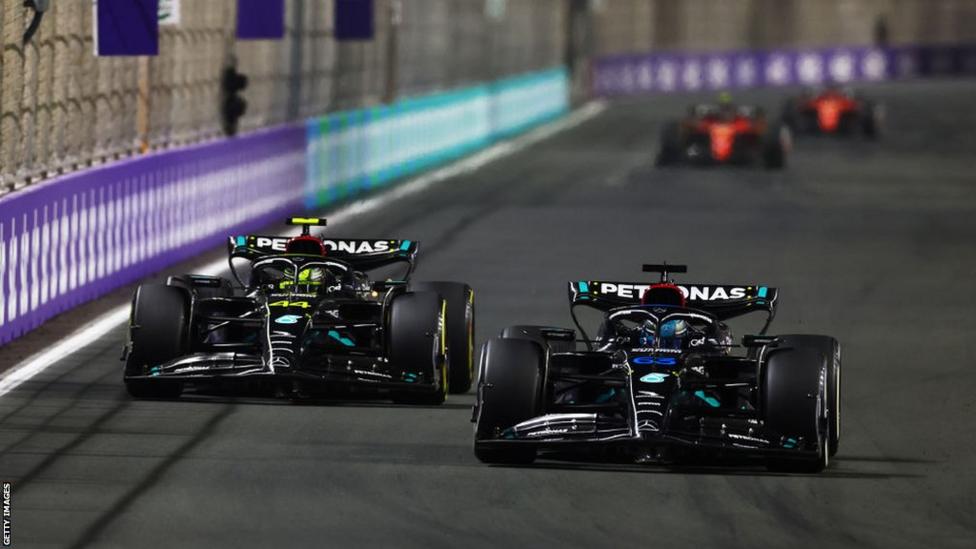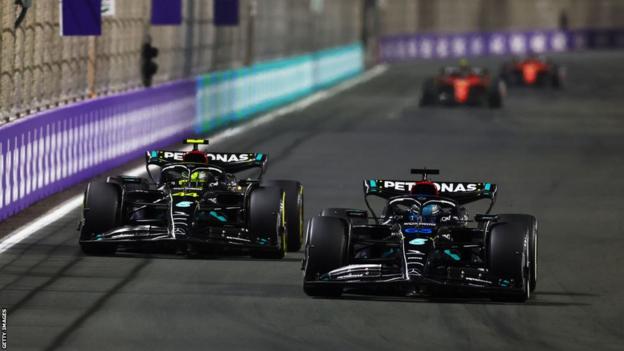 Lewis Hamilton and George Russell will continue as Mercedes' driver line-up for at least the next two years.
Hamilton has signed a new contract that will extend his period with the team to 13 years and keep him in F1 well past his 40th birthday.
And Russell, who joined Mercedes in 2022, has also signed a two-year deal.
The move confirms pledges by Hamilton and team principal Toto Wolff that a new deal for the seven-time champion was only a matter of time this season.
For Hamilton, it allows him to continue a quest for a record eighth world drivers' title, which both driver and team believe was robbed from them at the controversial 2021 Abu Dhabi Grand Prix. Hamilton lost out to Red Bull's Max Verstappen after former FIA race director Michael Masi ignored the rules in operating a late-race safety car period.
Since then, Mercedes have fallen from competitiveness as Red Bull have dominated the sport.
Hamilton, who has continually said he wants to stay in a relationship with Mercedes long after he retires from the cockpit, said: "We dream every day of being the best and we have dedicated the past decade together to achieving that goal.
"Being at the top does not happen overnight or over a short period of time, it takes commitment, hard work and dedication and it's been an honour to earn our way into the history books with this incredible team.
"We have never been hungrier to win. We have learnt from every success but also every setback.
"We continue to chase our dreams, we continue to fight no matter the challenge and we will win again. I'm grateful to the team who have supported me both on and off the track. Our story isn't finished, we are determined to achieve more together and we won't stop until we do."
Russell, 25, added: "I have grown up with this team ever since joining as part of the junior programme back in 2017. It's my home and it feels fantastic to extend our special relationship through 2025.
"After stepping up to the Mercedes race seat last year, I wanted to reward the trust and belief that Toto and the rest of the team placed in me.
"Taking my first pole position and race win last year was an unforgettable feeling.
"More importantly though, it's been great to work with everybody at [the chassis base at] Brackley and [engine headquarters at] Brixworth to make progress with our car and push forward our development. Their loyalty, vision and hard work is inspiring.
"We have made some significant steps over the past 18 months and are only getting stronger as a team.
"I'm excited to help continue to build on that momentum as we progress into 2024 and 2025 and continue to focus on returning to the very front of the pack."