Chris Eubank Jr beat Liam Smith by TKO in round 10 of their middleweight rematch after knocking him down twice.
Eubank, 33, dropped Smith in the fourth round, the same round in which the Liverpudlian beat him in their first fight back in January.
Although Eubank was not able to press this advantage, he continued to dominate at Manchester Arena with an impressive range of shots.
And in round 10 the referee stopped the fight after Smith, 35, went down again.
"What happened tonight was supposed to happen in January," Eubank told Sky Sports. "I trained hard, the focus is always there and I dedicate my life to this sport."
Smith admitted he had not been at his best, as he struggled with his movement after appearing to pick up an ankle injury.
"Chris was the better man tonight," he said. "Chris knows how I was with the weight and after the injury, I came down three stone.
"I was flat as they come from the get go. I couldn't move my feet and Chris was sharp."
Eubank impressive in gaining revenge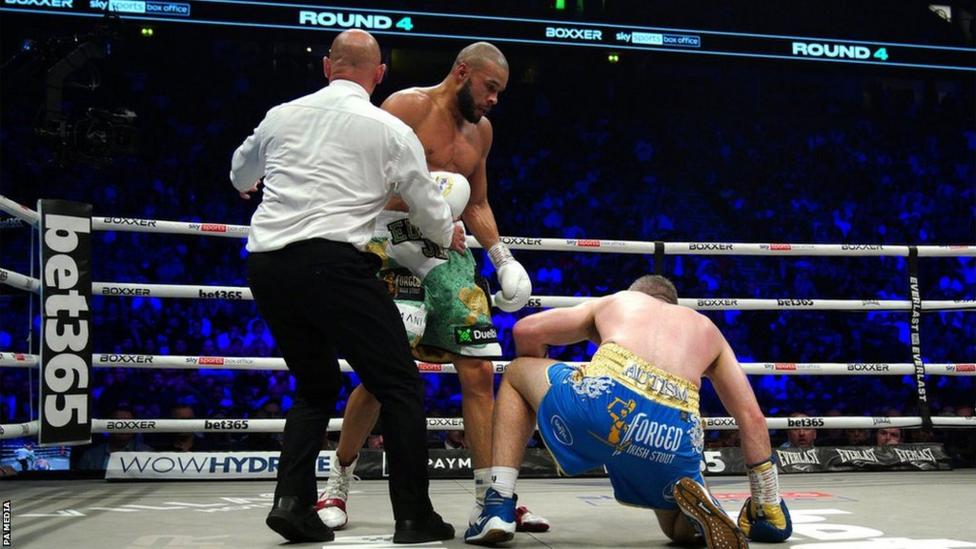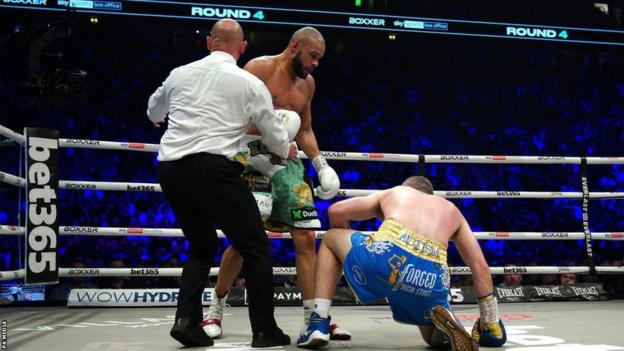 Eubank had activated the rematch clause following his first knockout defeat seven months ago, and after numerous delays he returned to the scene of that loss stronger than before.
"I had to fight some demons, a lot of things to prove, a lot of people saying I don't have it any more," he said.
"I had to live with that for six months knowing it isn't true. I enjoy new challenges, and rise to the occasion when I have to."
Smith came in as slight favourite after his impressive win in January and had the partisan north-west crowd on his side, but Eubank was more than prepared, playing up to his villain role as he cupped his ear to the boos of the audience on entering the ring.
After an even start, Eubank gained the ascendancy and dropped Smith with a fierce uppercut in round four, from which the Liverpudlian never truly recovered.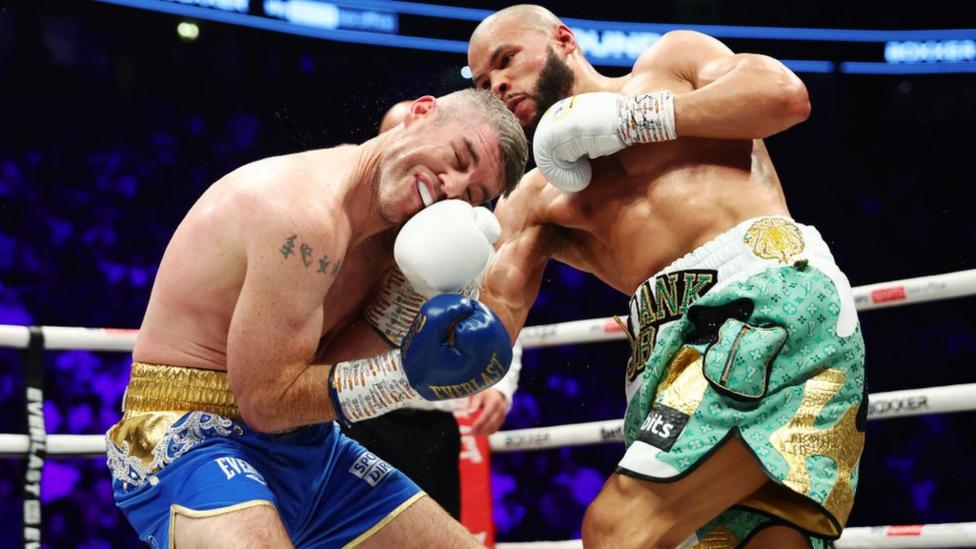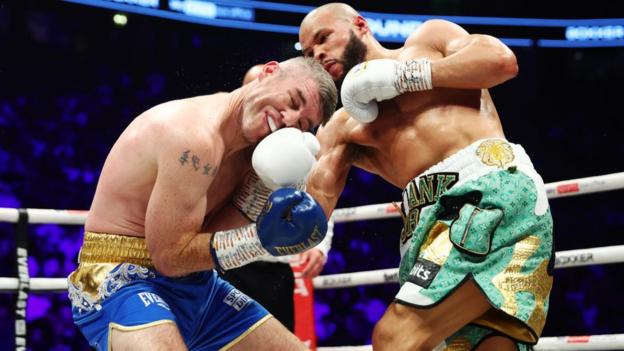 Eubank attempted to finish the fight soon after, landing a ferocious series of punches in round five that Smith managed to weave away from and give his supporters hope.
But Eubank knew he was on top and could bide his time, calmly returning behind the jab in the middle rounds as Smith sought the knockout punch he needed.
With Smith's movement seemingly hampered by an issue with his left ankle, Eubank moved in to settle the victory, putting his opponent back on the canvas before the referee waved the fight off – and granted Eubank revenge.
Eubank had been involved in bitter confrontations with Smith out of the ring before both bouts but called his rival a "warrior" after the rematch and said he was open to a third fight.
"I was surprised I hit him with a flurry of punches, I must have hit him for 20 seconds and he was still standing, I just thought 'this guy is tough'," said Eubank. "Crafty old fox, he's been there done that, he's a veteran.
"I said 'you're a warrior'. He wasn't looking for a way out. It's becoming normal to quit now, which isn't good. Having no quit is good for boxing.
"If the fans want to see a third fight, you know me, I won't back down."
However, Eubank also looked at moving on to "bigger and better fights" following the victory.
"There's some big names out there. I see a few of these guys in the crowd. I'm coming for you," he said.
Coach change pays off for Eubank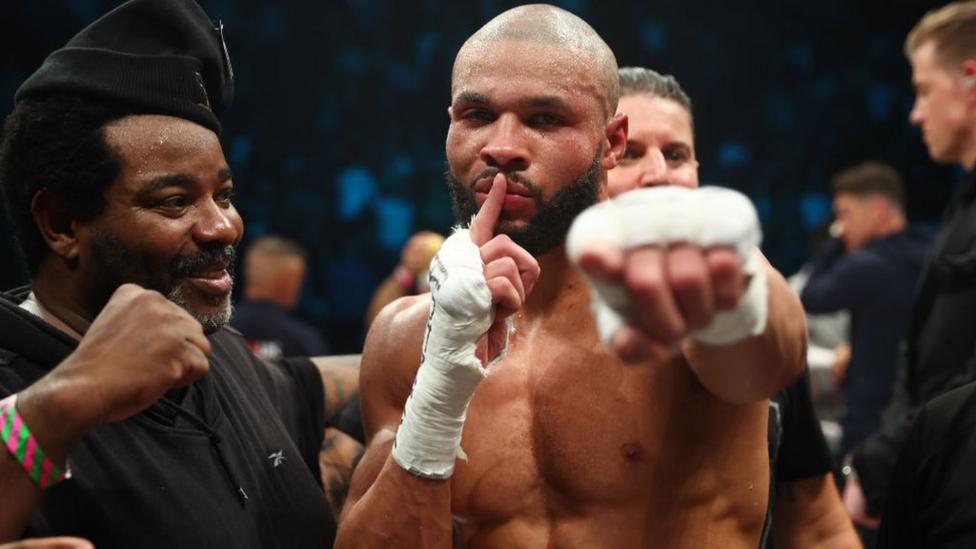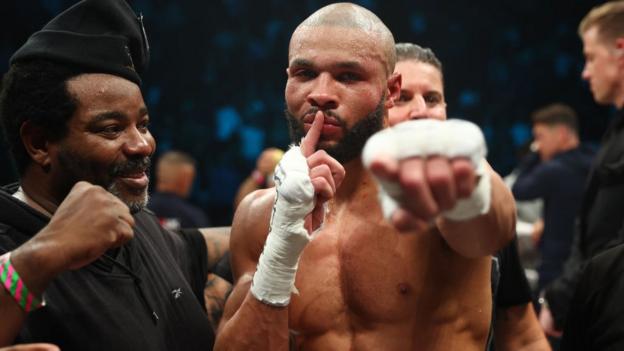 In the days before their fight in January, Eubank was full of confidence, promising to destroy Smith inside a few rounds. Before the rematch, there was an obvious change in his demeanour.
Eubank was not eager to engage with Smith's attempts to get under his skin pre-fight and did not respond to taunts in the ring, including after Smith claimed he was pushed to the canvas at the end of round two.
A loss here could have spelled the end of not just Eubank's dreams of challenging for a world title, but his position as one of the country's biggest boxing stars. This result, and performance, will surely now re-establish him.
It justifies Eubank's split with Roy Jones Jr and hiring of new coach Brian 'Bomac' McIntyre who trains undisputed welterweight champion Terence Crawford. This was not quite a performance as dominant as Crawford's demolition of Errol Spence Jr, but it was on those lines.
"They all add percentages and what've learned over the years is you have to take all percentages you can," Eubank said. "There's some tough, tough men out there."
Smith, on the other hand, sees a four-fight knockout streak come to an end, with the Manchester crowd left angry and disappointed.
Clarke, Azim & Price stay undefeated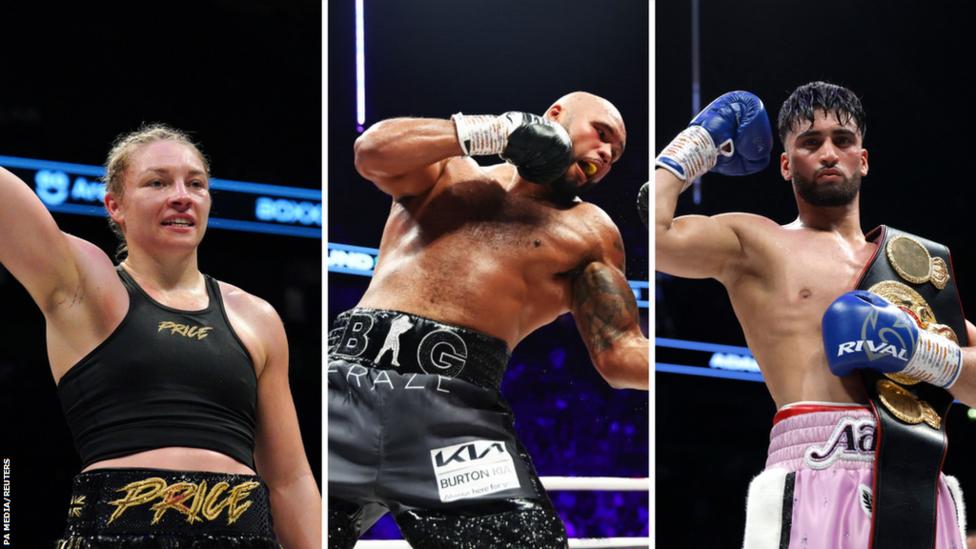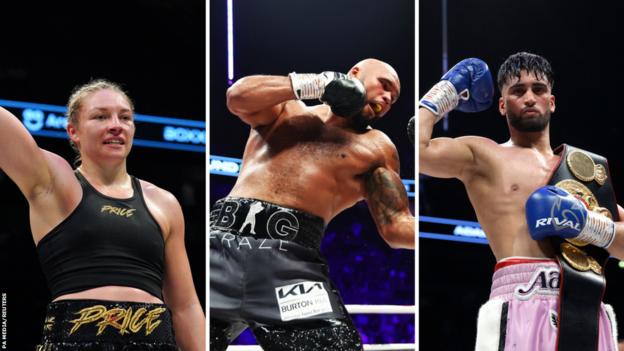 On the undercard, Frazer Clarke maintained his unbeaten professional record by forcing Dave Allen to retire after the sixth round of their controversial heavyweight bout.
Clarke had two points deducted for catching Allen with low blows, with the Doncaster fighter visibly unhappy with his opponent and the referee.
Olympic bronze medallist Clarke defended himself as a "clean fighter" afterwards, with the low blows detracting from an otherwise strong display in which he landed the better shots.
Adam Azim is also still unbeaten after a points win over Ukraine's Aram Fanyan in the co-main event, the 21-year-old moving to nine professional wins.
Azim kept Fanyan at bay by relying on his jab, ensuring he was able to keep at bay his opponent's go big or go home strategy of regularly throwing left hooks and ease to victory.
"I'm only 21 and got into a ring with a guy who's had 25 fights," Azim told Sky Sports. "He's very strong, but I've got a very strong chin. It's another tick on the box [going 10 rounds]."
Lauren Price also ensured she remains unbeaten as a professional with victory over Lolita Muzeya in their welterweight clash.
The referee halted the bout in round six due to Muzeya sustaining a horrendous cut on her eyebrow, with Price awarded the win on points 60-53 having dominated to that point.
It was the 29-year-old Welsh fighter's fifth win in as many full-time bouts, having turned professional after winning gold at the Tokyo Olympics in 2021, and afterwards she said she wants to fight fellow British boxer Natasha Jonas next.
Price faces competition for a bout with Jonas from American boxer Mikaela Mayer, who comfortably defeated Silvia Bortot on points 100-90 in their light-welterweight bout.
"I'm ready for that fight, I'm preparing my body for that fight, it's a big jump going from 130lbs to 137lbs," Mayer said. "I'm prepared to go to 137lbs and take on Tasha Jonas straight away.
"That's the one I want next! And she sounds like she's game. We came up in the amateurs together, we're no strangers to each other."