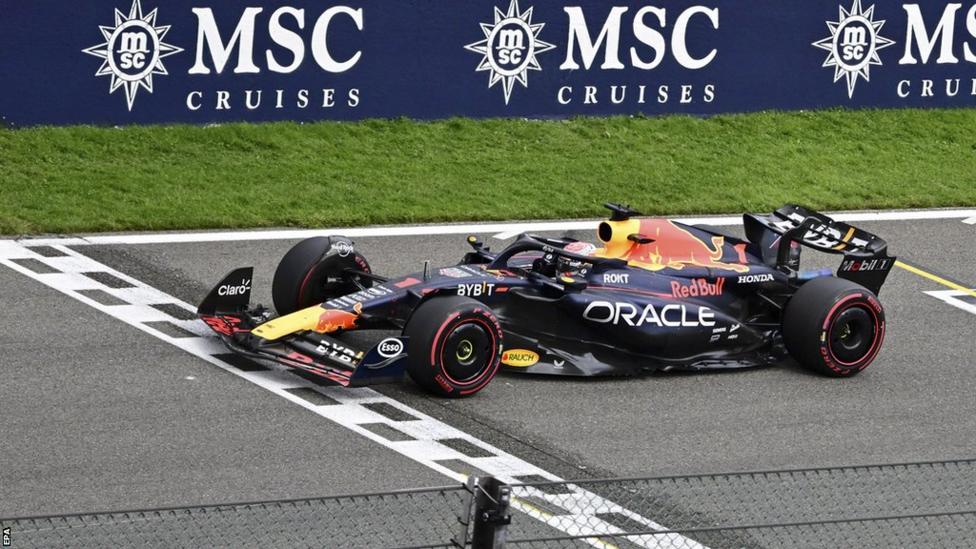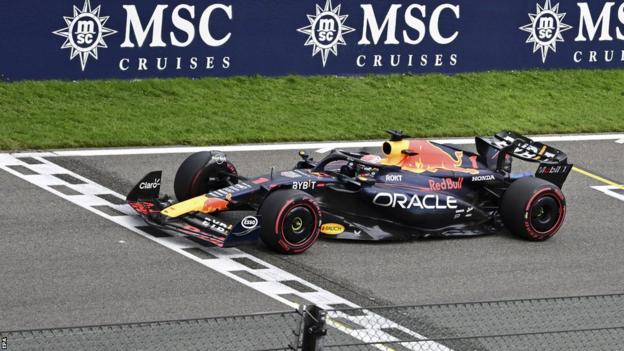 Max Verstappen was in imperious form as he came from sixth on the grid to win the Belgian Grand Prix.
The Red Bull driver's eighth consecutive victory in the final race before the summer break extended his championship lead to 125 points.
Verstappen led Sergio Perez home to a Red Bull one-two but was in another league from his team-mate.
Ferrari's Charles Leclerc took third ahead of Mercedes' Lewis Hamilton and Aston Martin's Fernando Alonso.
"It's a new spot, that's for sure – [winning from] P6. I knew that we had a great car. It was just about surviving Turn One," said Verstappen.
"From there onwards I made the the right overtakes. I just got a little bit stuck in the beginning in a DRS Zone and once that cleared I could just do my own thing – really enjoyable."
Verstappen drove cautiously in the early laps as he picked his way up from his unusually low grid position, caused by a five-place grid penalty for using too many gearbox parts after he had qualified on pole by 0.8 seconds.
The world champion was up to fourth on the first lap but did not pass Hamilton until lap six and Leclerc until lap nine, both times using the DRS overtaking aid to overtake into the Les Combes chicane at the end of the long Kemmel straight.
Perez, who had passed Leclerc for the lead up the same straight on the first lap, hung on in front until his pit stop on lap 13.
Verstappen pitted the next time around, and only then began to show something like his true potential.
Emerging two seconds back from Perez, Verstappen was a second back after his first lap out of the pits, on his tail next time around, and ahead halfway along the Kemmel straight on lap 17.
What followed was a crushing demonstration of superiority over even a driver in the same car.
The Dutchman was 1.6secs ahead by the end of that lap, driving it two seconds faster than Perez.
He took it relatively cautiously on the next lap, extending his lead by 'only' 0.7secs, but then was 1.4secs faster the next time around.
The only jeopardy remaining in the race were some testy messages from his race engineer Gianpiero Lambiase.
The Briton asked Verstappen to "use his head" before his first pit stop, only for the driver to ask whether Perez had been given the same command – effectively to manage his pace. Lambiase responded with "I suggest you follow my instructions and trust me".
A mid-race shower of rain was enough to add some tension for the drivers, but not to make them switch to treaded intermediate tyres. It did lead to a scary moment for Verstappen, though, when he had a wobble at high speed in the daunting Eau Rouge swerves, but managed to hold on to the car.
After his second stop, Lambiase scolded Verstappen that he had "used a lot of the tyres on the out lap", driving in a way which the engineer did not deem sensible.
Verstappen responded by setting fastest lap, extending his advantage by 2.3secs in one circuit.
Lambiase warned him: "This tyre had reasonable degradation in the first stint; I'd advise you to use your head a bit more."
Verstappen responded: "I could also push on and do another stop – a bit of pit stop practice."
It was his 10th win in 12 races and he continues to look as though he could win every race remaining this season, with no discernible opposition on the horizon.
Postives for Leclerc as Hamilton closes on Alonso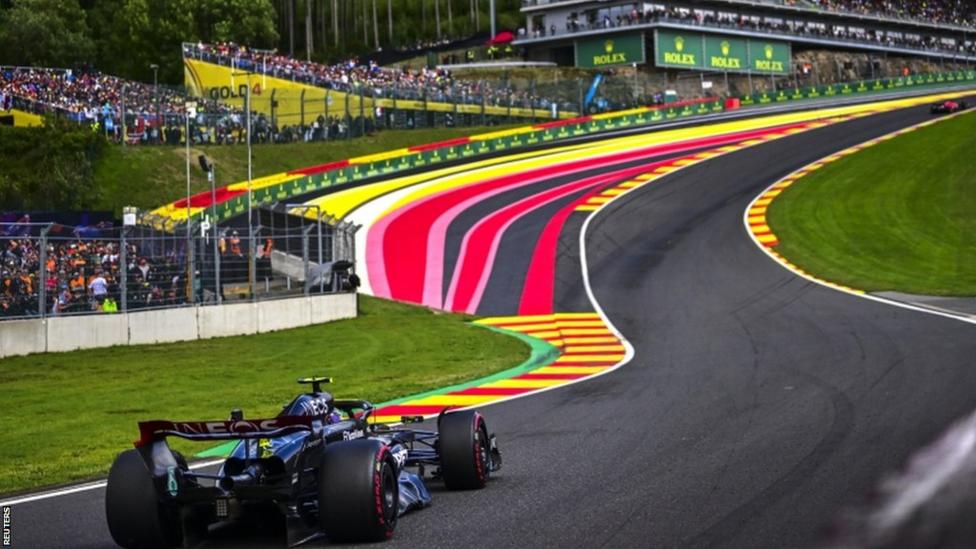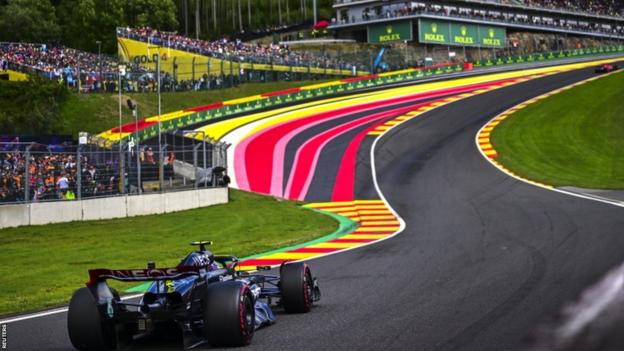 Verstappen's advantage was one thing for those in other cars, but humiliating for Perez, who was far closer to Leclerc in third than he was to his team-mate at the head of the field.
Leclerc hung on to the Red Bull well, always within a handful of seconds of Perez and more than able to hold Hamilton at bay.
"We've had quite a positive weekend," said Leclerc. "Of course the race was good on my side but when you look at the Red Bulls we still have a lot of work to do."
Seven-time world champion Hamilton's consolation for not passing Leclerc was to take fastest lap from Verstappen after a late pit stop for fresh medium tyres.
Hamilton's result moved him to just one point behind Alonso in their fight for third in the drivers' championship.
Alonso, who turned 42 this weekend, drove well from his eighth place on the grid to move up to sixth on the first lap and then fifth past the Ferrari of Carlos Sainz, damaged in a first-corner collision with Oscar Piastri's McLaren, on lap four. Both Sainz and Piastri were forced into retirement.
Hamilton's team-mate George Russell was a few seconds adrift of Alonso, after losing three places on the first lap when he got boxed in behind Piastri's failing McLaren.
Lando Norris recovered well from an error at his first stop in fitting the hard tyres at his first stop, on which he found no grip and dropped close to the back, to climb back through the field to take seventh place.
Alpine's Esteban Ocon was eighth, ahead of the second Aston Martin of Lance Stroll, while Yuki Tsunoda took the final point for Alpha Tauri.