Golf fans heading out to Rome for the 44th Ryder Cup, or those simply watching on TV from the comfort of their home, clubhouse, or sports bar, can show their support for the event by kitting themselves out with a selection of bespoke official Ryder Cup golf apparel from Abacus Sportswear.The premium Swedish performance sports apparel company is an exclusive licensed apparel brand for the biannual match play event, which tees off at Marco Simone Golf & Country Club on September 29, before coming to its traditional Sunday singles finale on October 1.

Ahead of this unmissable event, the DP World Tour has selected an official collection of Abacus garments and accessories, all of which have been designed to help golfers play their best as well as look the part, and support professional golf's most highly anticipated team event.
The Abacus Ryder Cup 2023 Collection includes a variety of performance polos, gilets, wind shirts and rain jackets for men and women – all of which prominently feature the trademarked Ryder Cup 2023 logo and are available to buy in the merchandise outlets at Marco Simone Golf & Country Club during the Ryder Cup or via the Ryder Cup's online shop.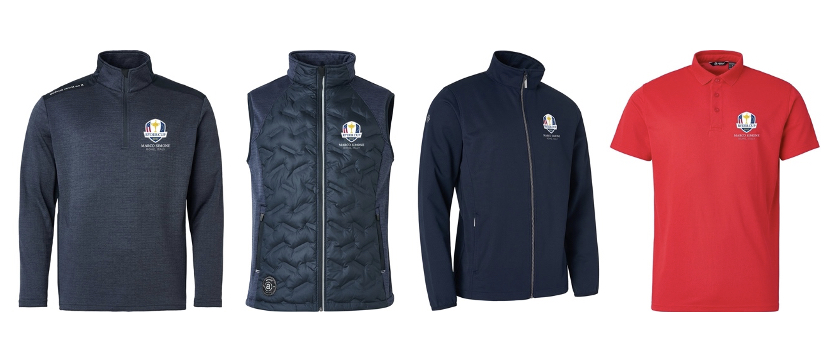 GROVE HYBRID JACKET  
This stylish, lightweight, windproof jacket features quilted padded front and back panels for warmth, while a stretch fleece fabric in the sleeves, side panels and shoulders enables unrestricted movement and ensures a snug, yet comfortable fit.  Added wind protection comes from using a 'heat pressed' quilt, a process that avoids the small holes left behind from stitching therefore enhancing the overall windproofness of the jacket.
Design features include a full zipper at front with chin guard and inside wind flap to keep neck and throat away from wind and cold air and is finished with reflective piping, two handy front pockets with zip closure, Abacus logo on right sleeve and prominent Ryder Cup logo on left chest.  Available in Black for men and navy for ladies. RRP: £120

GROVE HYBRID VEST GILET  
The Grove Hybrid Gilet features all the same material and performance benefits as the Grove Jacket – seamless, quilted and padded windproof fabric to the front and back with side panels and shoulders constructed from stretchy fleece – but without the full sleeves. Ideal for wearing over a long-sleeved base layer or midlayer, the Gilet features elastic binding around the armholes to keep the wind out and ensure the body remains warm.  Other design features include a full zipper at front with reflective piping, two handy front pockets, and prominent Ryder Cup logo on left chest. Available in green for ladies.  RRP: £100

LYTHAM SOFTSHELL JACKET
Made from a stretchy softshell fabric that is also very breathable, the Lytham jacket is perfect for playing championship links venues and local parkland courses alike.  Moisture and heat transportation properties will help you stay warm without over-heating, while built-in stretch enables total freedom of movement while delivering a secure, fitted feel, aided by elastic bindings in the cuffs and waist area.
Offering two front pockets to keep your hands warm, the jacket features the Abacus logo on the upper right sleeve and below the collar on the back, and the all-important Ryder Cup 2023 log on the left chest. RRP: £100

CRAY POLO SHIRT
Offered in crisp solid black or striking red for both men and women, the Cray Polo shirt is ideal for wearing on its own in the summer sunshine or being paired with gilet or midlayer if the temperature drops. Featuring DryCool properties and excellent breathability, it will help keep you cool in Italy's late summer sun or wherever you play your golf, while its built-in stretch ensures complete comfort throughout the phases of the swing. Available in sizes S-XXXL, it features the Ryder Cup 2023 log on the left chest.  RRP: £50

SUNNINGDALE HALF-ZIP
Perfect for keeping warm while watching or playing golf, the long-sleeved Sunningdale Half-Zip boasts a soft, brush fleeced inside, which offers good heat retention, while a high collar keeps out the wind. Offered in a solid navy colour in sizes S-XXXL for both men and women, it features an Abacus logo on the right shoulder and a prominent Ryder Cup 2023 logo on the left chest. RRP: £85

To buy items from the Abacus Ryder Cup 2023 Collection, visit: euroshop.rydercup.com/collections/abacus