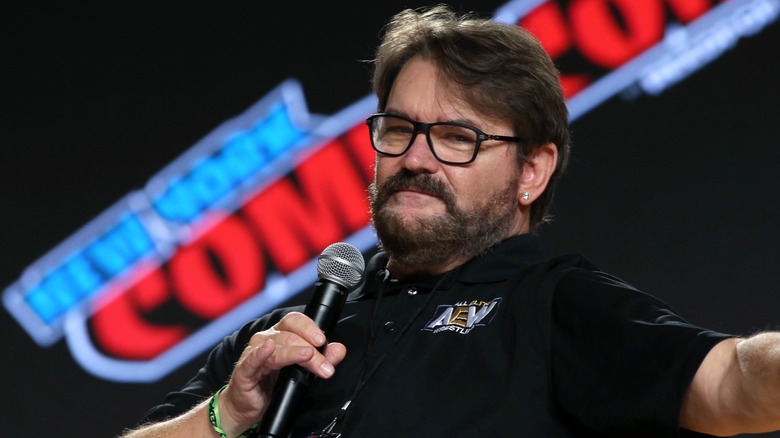 Bennett Raglin/Getty Images
Despite calling the action for various promotions across his 40-year career, Tony Schiavone has never had the honor of being in the vicinity of over 80,000 fans for a wrestling event. All that will change next Sunday at AEW's All In pay-per-view seeing as AEW has reportedly sold over 80,000 tickets for a show it is dubbing "the biggest event in wrestling history."
On a recent episode of "What Happened When," Schiavone tried to contain his excitement when reminded of AEW's impressive ticket sales for the event at Wembley Stadium. 
"This will be the biggest event I've ever been a part of," Schiavone said. "Of course, I was part of WrestleMania VI at the SkyDome [in Toronto] with a big crowd [of 67,678] and I've seen big crowds before — but nothing on this scope. I think it says a lot about Great Britain and England really wanting to see AEW." 
Schiavone admitted that AEW programming airing on ITV has helped the company gain "a lot of exposure" but is hopeful that the company delivers in its first event across the pond. "I hope we deliver — to the fans, to make them want to see us again," Schiavone stressed. "That's my hope and concern," he added.
He said that "there was a lot of pressure" on AEW to pull out all the stops at All In, suggesting that the event is a litmus test for the upstart promotion. "We really have to step up and deliver. I think we will," Schiavone said. 
He ran down the list of matches announced for All In, which includes Adam Cole vs. MJF, Darby Allin and Sting vs. Mogul Embassy, FTR vs. The Young Bucks, and AEW Women's World Champion Hikaru Shida's title defense against four rivals. "The stars are going to be there, you just want to make sure those 80,000 fans go home happy, which is really a concern for every show we do," he concluded.