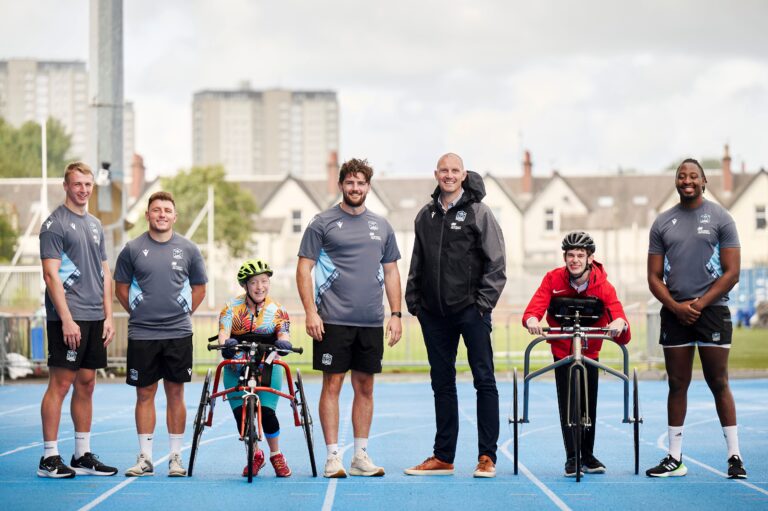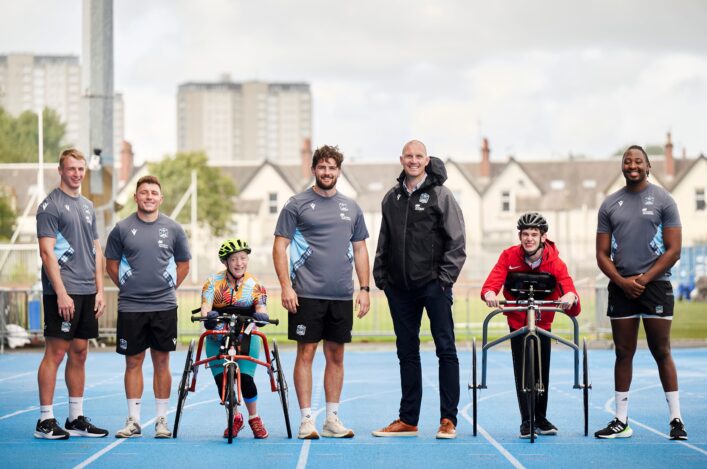 Above: Athletes Elaine Boyd and Gavin Drysdale demonstrated frame running trikes at the launch
Scotland's first frame running hub has opened at Scotstoun Stadium, in a partnership initiative involving scottishathletics, VP-Glasgow, Scottish Disability Sport, Queen Margaret University, Neil's Wheel Charity, Frame Running Scotland and ACE Frame Running.
The Wooden Spoon Frame Running Equipment Hub is funded by the children's charity of rugby, Wooden Spoon.
VP-Glasgow have provided storage and are also supporting with the allocation and fitting of frame to new participants.
The hub has a stock of running frames which can be lent to clubs free of charge for up to 24 months at time. This will give clubs the chance to build a frame running section of their own, and to start fundraising for their own equipment for the longer term.
It will also act as a 'swap shop' so that young athletes can update their frame as needed while they are still growing.
Formerly known as RaceRunning, frame running is a recreational activity for children and adults with mobility challenges, and a para athletics event.
It is a form of adaptive running which sees athletes' bodies supported by a purpose built 'trike', allowing them to experience the sensation of free movement, often for the first time. The equipment features a saddle, body support but no pedals, with athletes propelling themselves against the frame with their feet and steering with their hands or arms. Children and adults with cerebral palsy form the main participation group.
Double world champion frame runner Gavin Drysdale was at the launch on 24 August – an event that brings his journey full circle.
At just five years old, Gavin benefitted from Wooden Spoon's support of Bobath Scotland, now Cerebral Palsy Scotland. It was there that he was recommended to try frame running for the first time. This recommendation led to Gavin being the first person in Scotland to have a running frame at age six years. Twelve years later, he won gold for Great Britain at the Para Athletics World Championships in Dubai and has successfully defended his world championship title this year in Paris.
Gavin said: 'Frame running has completely changed my life. It has given me so many opportunities over the years I never thought I would ever have.
'The hub will mean many more children with limited mobility will be given the chance to participate in recreation and sport and discover the joy of frame running like I did.
'With the support of Wooden Spoon, Cerebral Palsy Scotland was able to introduce me to frame running through their therapy sessions and ultimately make a young boy's dream of participating and achieving in sport come true.'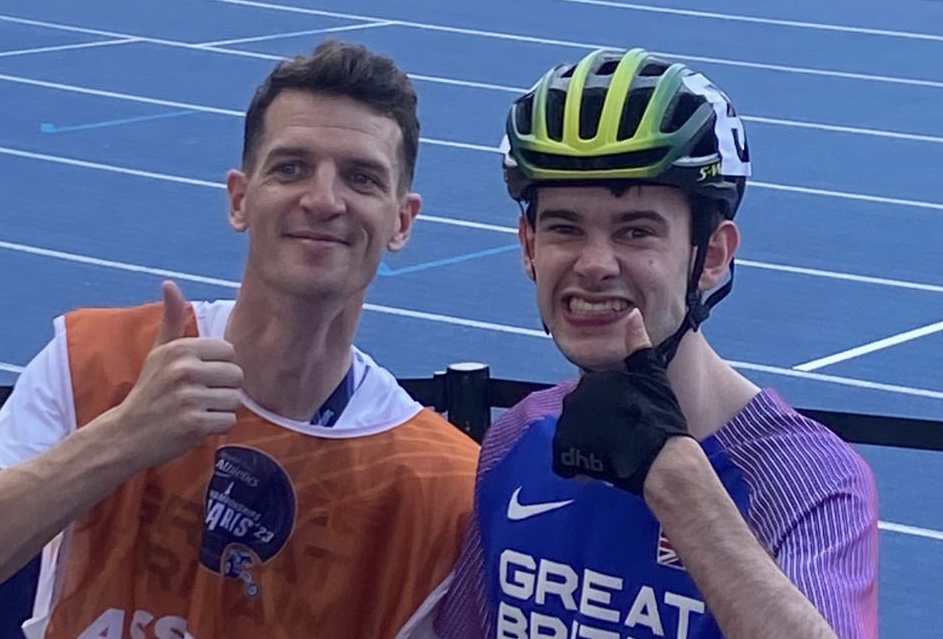 National Disability Pathway Officer for scottishathletics, Pamela Robson, said: 'The Frame Running Hub is an exciting initiative, and the first of its kind – the impact it's already having is amazing.
'The cost and availability of equipment can be a real barrier to participation in the sport, but the hub removes that barrier and is creating exciting opportunities for individuals with a physical disability. We are delighted to support the development of Frame Running in Scotland and within our clubs.'
QMU has played a pivotal role in bringing frame running to the forefront of parasports by providing scientific evidence for frame running classification, a requirement for its inclusion in future Paralympics. There are currently ten clubs active across Scotland.
Tags:
Frame Running, Gavin Drysdale, Pamela Robson, Para, Para athletics, para inclusion, Scotstoun, Victoria Park City of Glasgow, Wooden Spoon Frame Running Hub