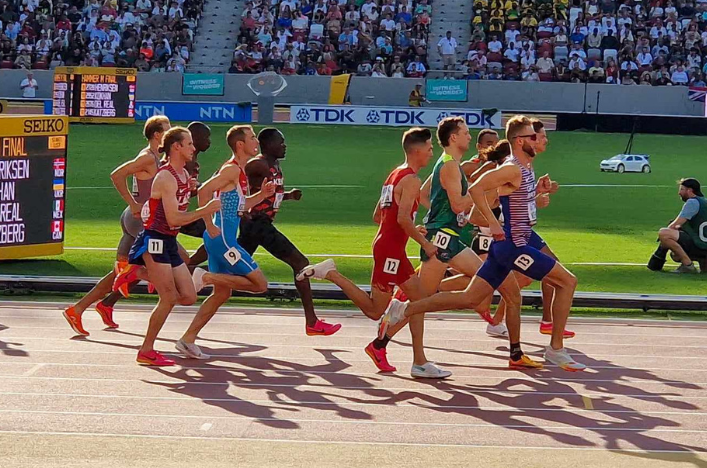 Pictured: Josh Kerr's semi-final, with thanks to Steve Adams
Timetable and results
Schedule for Scots in Budapest
Laura Muir, Neil Gourley and Josh Kerr have all secured places in 1500m finals at the World Athletics Champs in Budapest, after successful runs in the heats and semi-finals.
Laura ran a SB of 3:56.36 to finish 4th in a fast semi-final this evening, with the top six in each race making it through. That followed a 2nd place finish in heats, with a 4:03.50 run.
She said after the semi-final: "It went off so fast, I did plan to come through a little bit earlier, but it went off so quick I thought, 'I'm not moving up, I'm going to wait'. And then the pace slowed, and when the pace slowed, I moved up.
"That was probably one of the toughest semi-finals I've ran in. but ultimately I got to the final, which is all that matters."
Neil Gourley put supporters – and no doubt himself – through the wringer in both rounds, with his heat seeing him boxed in and having to fight to escape, ultimately making it through in 3:46.87.
In the semi-final, he qualified by just 1/100th second, crossing the line in 6th place with a time of 3:32.97.
He said: "I wasn't really feeling 100 per cent if I'm honest, and there came a point where I was really just tracking 6th place because the legs just were not responding.
"But we have those days, and I want to be able to make World finals even when I'm not at my best day, and I suppose that was today. Good news is, we're all on the same line on Wednesday."
Third to go through was Josh Kerr, who led much of his semi-final, submitting to a late surge from Ingebrigtsen to finish in 2nd place, with a 3:35.14. That was a repeat of the 1-2 from their heat, when Josh ran 3:34.00.
He said after the semi-final: "When you've got a bunch of front-runners in there including myself, one of us is going to take it and get a bit bored, so I got bored, and I took it, and I think the training's there so I wasn't particularly worried."
The trio now get a break before their finals, with Laura due back on the track at 8.30pm on Tuesday (UK time), while Neil and Josh race at 8.15pm on Wednesday.
Want to watch more? Our YouTube playlist includes athlete interviews on all three 1500m heats.
Thanks to Stuart Weir in Budapest for video interviews.
Tags:
Budapest 2023, Josh Kerr, Laura Muir, Neil Gourley, World Athletics Championships, World Championships