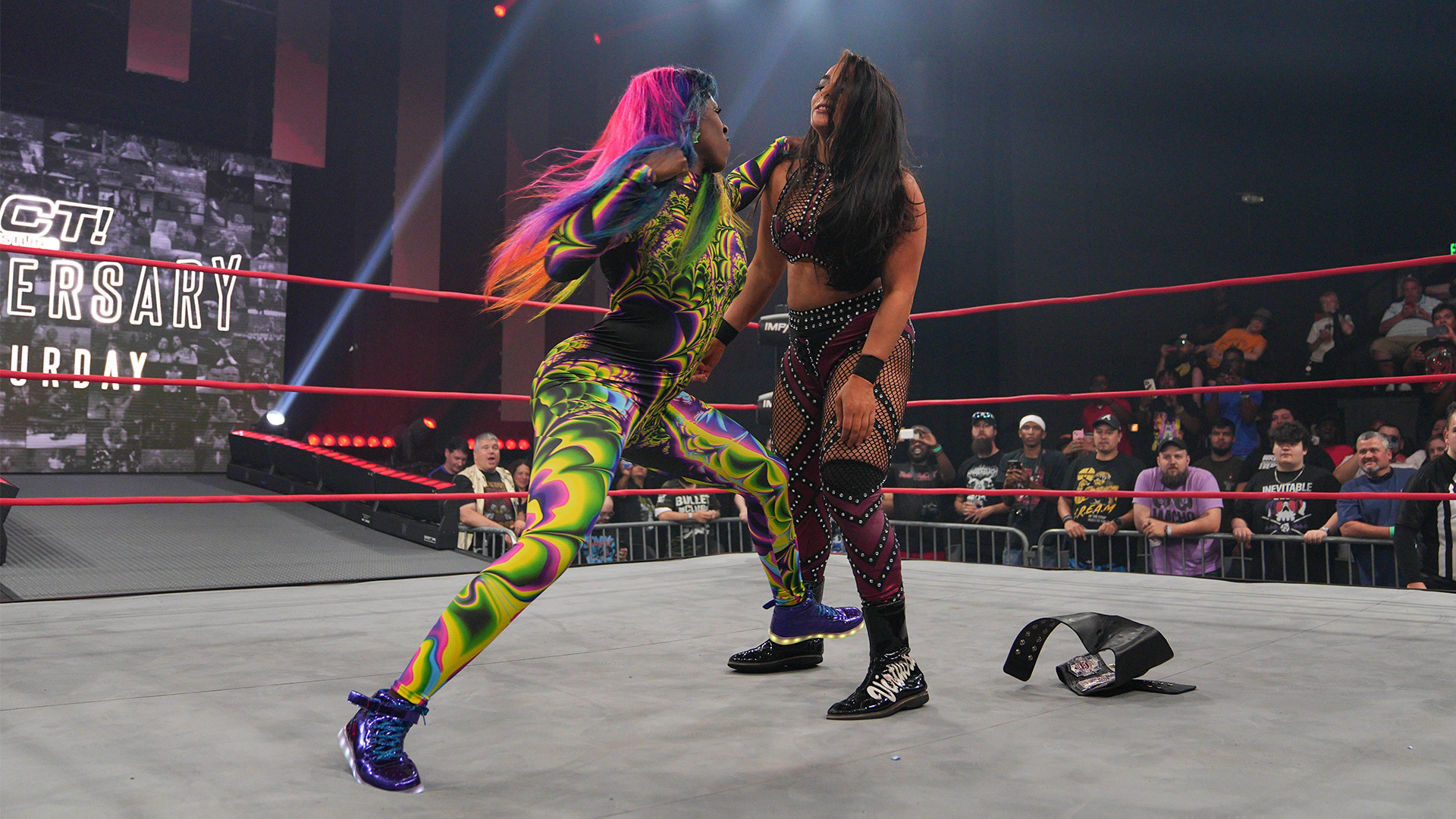 IMPACT! on AXS TV Results: July 13, 2023
The action begins Before the IMPACT with an exclusive match.
Heath vs Dirty Dango
Heath looks to teach Dirty Dango a lesson in respect! Director of Authority Santino Marella joins Tom Hannifan and Matthew Rehwoldt on commentary before he battles Dango this Sunday at Slammiversary Fallout. Heath is fired up in the early going as he delivers a series of strong right hands. Dango finds an opening and takes Heath off his feet. Dango catapults him throat-first into the bottom rope. Heath tries to build momentum but Heath shuts him down with a running back below. Heath avoids the diving knee, then turns the tide with a big powerslam. Dango provokes Marella at ringside as security holds back the Director of Authority. Dango takes a cheap shot at Marella but is caught with the Wake Up Call from Heath. The referee is distracted the commotion at ringside, which gives Dango time to recover and kick out at two. Dango pins Heath with his feet on the ropes to win.
Dirty Dango def Heath
The final IMPACT! before Slammiversary is on the air.
IMPACT World Tag Team Champion Chris Bey w/ Ace Austin vs Zachary Wentz w/ Trey Miguel
Zachary Wentz makes his IMPACT in-ring return against Chris Bey as he looks to prove that the Rascalz deserve a shot at the IMPACT World Tag Team Titles! Bey is in control as Wentz retreats to the outside. Austin and Miguel almost come to blows as Wentz knocks Bey off his feet. Wentz distracts the referee, allowing Miguel to choke Bey on the ropes. Bey turns things around with a top rope clothesline for two. Bey hits Code Red but it's still not enough to keep Wentz down. Miguel gets up on the apron but Austin has had enough as he pulls him down to the floor. Miguel gives him a thumb to the eye, followed by a superkick. Wentz uses a foreign object on Bey, then connects with a headlock DDT to win.
Zachary Wentz w/ Trey Miguel def IMPACT World Tag Team Champion Chris Bey w/ Ace Austin
Director of Authority Santino Marella denies the Rascalz an IMPACT World Tag Team Title opportunity after Zachary Wentz cheated to defeat Chris Bey just moments ago.
Alex Shelley defends the IMPACT World Title against Nick Aldis this Saturday at Slammiversary.
Kevin Knight vs Mike Bailey – Ultimate X Preview Match
Who will gain momentum heading into Slammiversary's high-stakes Ultimate X match? Kevin Knight and Mike Bailey fight it out! Knight hits a springboard crossbody. Bailey fires back with a springboard Moonsault to the outside. Bailey drives his knees into the lower back of his opponent. Knight avoids the running corkscrew, then creates separation with a big dropkick. Knight picks Bailey off the top with another dropkick, sending him crashing to the floor. Knight soars with a crossbody to the outside. Bailey regains control as he continues to target the spine of Knight. Bailey catches him in mid-air with a superkick. The action is fast and furious as Knight leaps to the top rope and hits a massive Superplex. Bailey successfully hits the Whirlwind Kick, followed by Ultima Weapon for three.
Mike Bailey def Kevin Knight – Ultimate X Preview Match
Masha Slamovich and Killer Kelly are bound by circumstance but united by purpose as they challenge The Coven for the Knockouts World Tag Team Titles at Slammiversary.
Digital Media Champion Joe Hendry & Yuya Uemura vs Kenny King & Sheldon Jean
Before Joe Hendry defends the Digital Media Title against Kenny King on Countdown to Slammiversary, it's tag team action tonight! Jean goads Hendry into entering the ring, drawing the referee's attention and allowing King to illegally attack Uemura from the apron. King pummels Uemura with a series of strikes but Uemura uses his quickness to evade the follow-up attack. Uemura tags in Hendry as the champ goes on the assault. Hendry hits a Fallaway Slam on King before things start to break down. King plants Uemura with a Tiger Driver. Hendry rips off King's hoodie and the crowd begins to chant "Stripper Kenny". An embarrassed King retreats to the back as Hendry puts Jean away with the Standing Ovation.
Digital Media Champion Joe Hendry & Yuya Uemura def Kenny King & Sheldon Jean
Lio Rush is here in IMPACT Wrestling to win the prestigious X-Division Championship. He'll have an opportunity to do just that when he challenges Chris Sabin at Slammiversary.
During an interview with Gia Miller, Chris Sabin vows to humble Lio Rush when they meet for the X-Division Title at Slammiversary.
Moose & Brian Myers vs Rich Swann & Sami Callihan
Top contenders for the IMPACT World Tag Team Titles collide ahead of this Saturday's 4-way clash at Slammiversary! The early advantage goes to Myers and Moose as Myers rakes the eyes of Callihan. Moose charges towards Callihan but the "Death Machine" pulls the top rope down, sending him toppling to the outside. Swann superkicks Moose as Callihan tosses Myers to the floor as well. Callihan launches his own partner into Moose and Myers as Swann connects with a somersault off the apron. Myers attacks Swann on the outside to give his team the advantage. Moose and Myers cut off the ring and begin to wear Swann down. Swann creates some much-needed separation as he counters a powerbomb into an Enzuigiri kick. Swann tags in Callihan and the pace quickens as he gets two for one with a DDT Flatliner combo on both of his opponents. Moose avoids the Cactus Driver 97 and both men are down following in-sync clotheslines. Myers inadvertently superkicks Moose. Swann has Myers beat following the Handspring Cutter but Moose pushes Callihan into the pile to break up the pin. Moose and Myers have another miscue, leading to the Death Valley Driver from Callihan and 450 Splash from Swann. Somehow, Moose is able to kick out at two. Myers has the referee distracted as Moose delivers a low blow to Callihan. Moose spears Callihan to score the victory.
Moose & Brian Myers def Rich Swann & Sami Callihan
SUBCULTURE promises to become IMPACT World Tag Team Champions this Saturday at Slammiversary, not just for them, but for every SUBCULTURE out there.
No longer a part of The Design, Angels is ready to spread his wings and fly in Slammiversary's Ultimate X match.
IMPACT Wrestling celebrates its 21st anniversary at Slammiversary LIVE THIS SATURDAY at 8pm ET on pay-per-view from the St. Clair College Sportsplex in Windsor, Ontario. Tickets are on-sale now at Eventbrite.ca. Alex Shelley defends the IMPACT World Title against Nick Aldis. Trinity challenges Deonna Purrazzo for the Knockouts World Title. Chris Sabin puts the X-Division Title on the line against Lio Rush. ABC's IMPACT World Tag Team Titles are up for grabs against Moose and Brian Myers, Rich Swann and Sami Callihan, and SUBCULTURE. Scott D'Amore and a mystery partner seek revenge on Bully Ray and Deaner with Darren McCarty as the Special Enforcer. Ultimate X returns as Mike Bailey, Jonathan Gresham, KUSHIDA, Kevin Knight and Alan Angels vie for the #1 Contendership to the X-Division Title. Frankie Kazarian with Traci Brooks in his corner settles the score against Eddie Edwards with Alisha Edwards in his corner. Plus, The Coven defend the Knockouts World Tag Team Titles against Masha Slamovich and Killer Kelly.
In two weeks on IMPACT!, Tommy Dreamer and Darren McCarty face off against Champagne Singh and Shera following their verbal confrontation on social media.
Nick Aldis claims that IMPACT Wrestling "needs" him to become the IMPACT World Champion as he prepares to challenge Alex Shelley this Saturday.
Just 48 hours before she defends the Knockouts World Title against Trinity, Deonna Purrazzo holds an open challenge for the Knockouts World Title in tonight's main event. Purrazzo is here to remind the entire Knockouts Division exactly who she is and all that she's accomplished.
Knockouts World Champion Deonna Purrazzo vs Jody Threat – Knockouts World Championship
The undefeated Jody Threat answers the open challenge! Threat bounces off the ropes and hits double knees to the face of Purrazzo. Threat charges into the corner but Purrazzo avoids the incoming attack. Purrazzo begins to target the left arm of Threat as she snaps it back on the mat. Purrazzo locks in the Fujiwara Armbar but Threat makes it to the bottom rope to break the hold. Threat hits a suplex out of the corner to create separation. Threat successfully hits the running double knees, followed by a German suplex for two. Threat counters Queen's Gambit, then soars with a top rope cannonball. Threat hits a running clothesline for another two count. Purrazzo locks in another Fujiwara Armbar but this time, Threat rolls through and escapes. Threat attempts the F-Bomb but Purrazzo counters into Venus de Milo to win by submission.
Knockouts World Champion Deonna Purrazzo def Jody Threat – Knockouts World Championship
After the match, Purrazzo and Threat are shaking hands when they're blindsided by Gisele Shaw, Savannah Evans and Jai Vidal. The Death Dollz join the fray as they drop Evans and Vidal. The Knockouts World Tag Team Champions, The Coven, attack the Death Dollz until Masha Slamovich and Killer Kelly shift the momentum. The IMPACT Zone erupts as Trinity is out next to clear the ring of Shaw, Evans and Vidal. Purrazzo and Trinity go face to face in the middle of the ring but when Trinity grabs the Knockouts World Title, Purrazzo delivers a straight right hand to her jaw. The fight is on between champion and challenger this Saturday at Slammiversary when referees and security break things up.
In a post-credits scene, Scott D'Amore is speaking on the phone with someone. He says "… PCO can't come back to life so my question is, can you?" D'Amore grabs his Team Canada jacket as IMPACT! goes off the air.