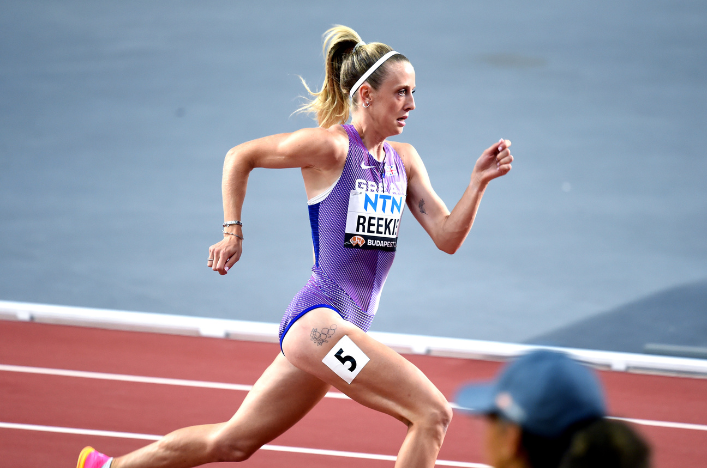 Rejuvenated Jemma Reekie is back mixing it with the world's best – but had to settle for fifth place in Budapest in a thrilling Women's 800m final.
Nicole Yeargin did land a medal as the GB and NI quartet clinched bronze in the Women' 4x400m final which closed out the programme.
That bronze took the overall GB and NI to a record-equalling tally of ten with a significant Scottish contribution via Josh Kerr's gold and Nicole's Relay anchor leg.
Jemma had missed out on the final in Oregon last summer after suffering from glandular fever earlier in the year.
But Jemma was in the hunt for the medal positions for much of the race on Sunday evening before the three pre-race favourites landed the podium moments.
Kenyan Mary Moraa took the gold in 1:56.03 with Keely Hodgkinson in second (1:56.34) and American Athing Mu, who had led until the home straight, forced to accept bronze (1:56.61).
Jemma clocked 1:57.71 for fifth place, by a single hundredth, and with those top three all posting times that are faster than the Scottish Record.
'I am proud of the way I ran it,' said Jemma, who is now coached by Jon Bigg.
'I was brave and I went out, it was probably just a bit hot in the first lap. I am proud of the way I ran this season.
'It was always going to be hard (change of coach). I was in the (previous) set-up before for a long time. You build those relationships up but Jon has made it as smooth as he can for me and we are excited for the future. I am loving working with him.
'I really wanted to be up in those medals today but those girls are strong. I have got a lot of work to do but I reckon we can do it for next year.'
+++
Nicole Yeargin made it a personal four-in-a-row in the Women's 4x400m final.
The America-based Scot, whose mum is from Dunfermline, won a hat-trick of medals last year at the World and European Champs with GB and NI and at the Commonwealths with Team Scotland.
This time, Nicole was trusted with both a place in the heat team and then moved to the anchor leg for the final as she joined Laviai Nielsen, Amber Anning and Ama Pipi.
Britain were in a good spot when she took the baton and for a moment it looked like she might catch Jamaica before Femke Bol snatched glory – and golds – for Holland with GB in third.
Holland clocked 3:20.72; Jamaica 3:20.88 and GB and NI 3:21.04 in a dramatic finale to the Budapest action.
The Pitreavie AAC athlete's 49.8 split under-lined what a good run she came up with in a pressure moment.
+++
Tags:
Budapest, Jemma Reekie, Nicole Yeargin, World Champs