Norwegian runs European mile record of 3:43.73 ahead of Nuguse's US record 3:43.97 as Rai Benjamin and Faith Kipyegon also excel in Eugene
On the eve of the Bowerman Mile in Eugene, Jakob Ingebrigtsen cheekily advised Yared Nuguse to "just stick to me as long as you can" in order to break the US record. "I might be closer to you than you think," Nuguse replied.
Ultimately they were both right as Ingebrigtsen beat Nuguse in a pulsating race at the end of the first day of a Diamond League final packed with quality performances.
With a European record of 3:43.73, Ingebrigtsen held on to win from Nuguse as the American clocked 3:43.97 to break Alan Webb's 16-year-old national record of 3:46.91.
Ingebrigtsen's mark was also a Diamond League record and world lead – in addition to being the third quickest mile in history behind Hicham El Guerrouj's 3:43.13 and Noah Ngeny's 3:43.40 – as the Norwegian drew on every ounce of his strength and stamina to hold off the spirited Nuguse.
Behind, there was a spate of record-breaking results with George Mills going No.3 on the UK all-time rankings behind Steve Cram and Seb Coe with 3:47.65.
Mario Garcia, in fourth, broke Jose Luis Gonzalez's long-standing Spanish record with 3:47.69.
In fifth, Reynold Kipkorir Cheruiyot of Kenya ran 3:48.06 to beat İlham Tanui Özbilen's world under-20 record of 3:49.29.
Cole Hocker of the United States ran a PB of 3:48.08 in sixth; Narve Nordas of Norway a PB of 3:48.24 in seventh; Azeddine Habz a French record of 3:48.64 in eighth; Niels Laros, 18, beat the Dutch record and Ingebrigtsen's European under-20 record with 3:48.93 in ninth as the top 11 broke the 3:50 barrier.
Pacemaker Cameron Myers led through the first lap in 55.4 and fellow hare Erik Sowinski paced through 800m in 1:51.8. Ingebrigtsen took over with 700m to go, though, pursued by Nuguse and he covered the third lap in 56.06 before an enthralling final circuit where Nuguse pushed him all the way to the line.
"Obviously I was here to run the mile," said Ingebrigtsen. "I'm jumping in the 3000m (on Sunday) because I got the opportunity. But now it's all about getting back home to the hotel, eat, sleep, try to prepare as good as I can and we'll see tomorrow."
Ingebrigtsen, who gets married next weekend to his fiancée Elisabeth, certainly has much to think about in the winter given Nuguse's strong challenge here. Josh Kerr, the world champion, ended his season impressively with an emphatic victory at the 5th Avenue Mile last weekend, whereas 2022 world champion Jake Wightman will aim to be back to his best next year.
"This is gonna be my last chance for a while to beat him, so I might as well just pour my whole heart into it," said Nuguse. "It was the perfect race because I just felt very unbothered the entire time, so it was all just really gritting it out and seeing who could run faster."
With the Prefontaine Classic hosting the Diamond League finals for the first time, Faith Kipyegon also produced a brilliant run in the women's mile although she was away and clear with little opposition.
The Kenyan clocked a meeting record of 3:50.72, missing her own world record of 3:49.11. Only former world record-holders Genzebe Dibaba of Ethiopia and Yunxia Qu of China have run faster.
Runner-up Diribe Welteji of Ethiopia clocked 3:53.93 and the pair will meet again at the World Road Running Champs in Riga in a fortnight.
Laura Muir, meanwhile, ran a fine season's best of 3:55.16 – narrowly missing her UK record of 3:54.50 – as she finished third with fellow Brit Melissa Courtney-Bryant running 3:59.57 in ninth.
"I didn't watch the clock," said Kipyegon. "I was just running my race and see what will happen at the finish line. So it was amazing, to run a meeting record, just fantastic."
World champion Karsten Warholm was defeated for the second time this month in the 400m hurdles. At the start of September in Zurich, Kyron McMaster of the British Virgin Islands shocked the Norwegian whereas on Saturday in Eugene the victory went to Rai Benjamin of the United States.
Out-sprinting Warholm in the home straight, Benjamin clocked a Diamond League record and world leading mark of 46.39 as Warholm finished runner-up in 46.53 with McMaster third in 47.31.
Two years ago Benjamin won Olympic silver in 46.17 behind Warholm's world record of 45.94, but last month he was disappointed to finish third in the world final in Budapest.
"I came out here with no expectation, just to have fun and close out the season," said Benjamin. "But what matters is winning at major championships and I haven't done that yet."
"Over the last hurdle I was feeling good," said Warholm. "I thought I had it, but when he comes to the side you know that he's gonna pass you because he has higher speed over the last hurdle."
"It's never fun to experience but I guess that's how people sometimes feel racing against me as well. That's sports, but I don't like to lose."
The women's 3000m steeplechase saw a similarly swift time as Winfred Yavi, the world champion from Bahrain, clocked 8:50.66 – the second fastest time in history – after holding off a challenge from Beatrice Chepkoech of Kenya, who holds the world record with 8:44.32 and here clocked 8:51.67.
Despite the mid-September date, not many athletes were showing visible signs of end-of-season fatigue. Chase Ealey, for example, added to her world title from last month by breaking the US record here in Eugene with 20.76m. It was also a world lead and meet record.
Yulimar Rojas of Venezuela, meanwhile, set a world leading mark of 15.35m in the women's triple jump.
Elsewhere Christian Coleman beat world champion Noah Lyles by two hundredths of a second in the men's 100m. The American ran 9.83 (0.1) to equal the world lead that he had held going into the competition with Lyles and Zharnel Hughes.
Shericka Jackson of Jamaica took the women's 100m in 10.70 (0.8) from Marie-Josee Ta Lou of the Ivory Coast with 10.75, Elaine Thompson Herah of Jamaica with 10.79 and world champion Sha'Carri Richardson of the United States in fourth in 10.80.
Brits Dina Asher-Smith and Imani Lansiquot finished seventh and eighth in 10.96 and 11.01 respectively.
Day two of the Diamond League finals is on Sunday (Sept 17) with the action on BBC3 at 8pm for UK viewers.
2023 Diamond League champions – day one
Men
100m: Christian Coleman (USA) 9.83 (0.1)
400m: Kirani James (GRN) 44.30
One mile: Jakob Ingebrigtsen (NOR) 3:43.73
400m hurdles: Rai Benjamin (USA) 46.39
3000m steeplechase: Simon Koech (KEN) 8:06.26
High jump: Woo Sang-hyeok (KOR) 2.35m
Triple jump: Andy Diaz Hernandez (ITA) 17.43m (-0.1)
Javelin: Jakub Vadlejch (CZE) 84.24m
Women
100m: Shericka Jackson (JAM) 10.70 (0.8)
1500m: Faith Kipyegon (KEN) 3:50.72
3000m steeplechase: Winfred Yavi (BRN) 8:50.66
Pole vault: Katie Moon (USA) 4.86m
Triple jump: Yulimar Rojas (VEN) 15.35m
Shot put: Chase Ealey (USA) 20.76m
Javelin: Haruka Kitaguchi (JPN) 63.78m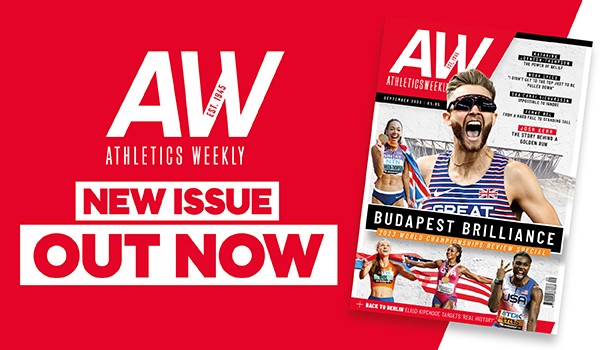 » Special offer – buy our World Champs review issue for only £1 here