World Champs in Budapest will see non-qualifiers relax in a special room as they await their fate
The words "hot seat" will put a chill down the spine of athletes and spectators following a disastrous attempt to introduce the idea five years ago. But World Athletics is introducing a more refined version of the concept at the World Championships in Budapest this month.
It is called the "q Room" and will see non-automatic qualifiers in sprints, hurdles and 800m races relax in a comfy chair in front of TV screens and surrounded by foam rollers and stretch bands, along with access to their kit, for up to 20 minutes until they find out whether they have progressed or not.
Among other things this means an end to interviews in the mixed zone with athletes who do not yet know if they have qualified or not.
It sounds less embarrassing than the "hot seat" system that was used at events like the 2018 European Championships in Berlin and 2019 European Indoor Championships in Glasgow. On those occasions athletes sat awkwardly holding an arrow-shaped placard that read "ticket to the final" and Dina Asher-Smith was among those to criticise it, saying: "Athletics isn't the right sport for that kind of thing. It cuts into prep time for the next round. It's not nice for athletes and certainly wasn't implemented with our needs in mind."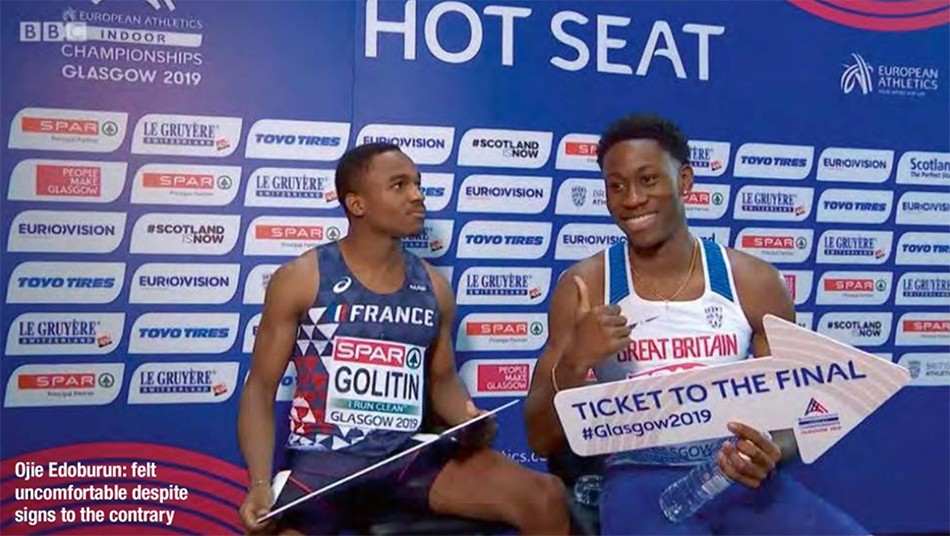 Organisers will hope the "q Room" is better received. "We've introduced the q Room to enhance the storytelling of all events that have non-automatic qualifiers," Mark Fulton, Executive Producer of ITN Productions, the team responsible for assembling the World Athletics Productions operation in Budapest, says in the August issue of AW magazine, which is available to buy here.
"Once an athlete has finished [in a non-automatic qualifying position], they'll be taken into the q Room where they'll be looked after. There will be comfortable sofas, places where they can warm down, be given foam rollers, access to drinks or anything that they want. They'll sit in there, with a view of the track feed. And that's where the narrative will be told.
"If nobody goes faster than those non-automatic qualifiers, they stay in the room. If somebody goes faster, they move out and somebody else moves in. It sounds quite brutal, but it is our take on reality television if you like.
"Yes, there is always disappointment and yes there will be people who will be overjoyed to qualify but, as we've always said from the beginning, we'll be there when you win and we'll be there when you lose."
The "hot seat" idea has not vanished completely, though, as World Athletics say "a virtual 'hot seat' system will be implemented" in finals and semi-finals in all disciplines, including field events and relays, to fill any lanes or starting position left empty due to an athlete's withdrawal.
Elsewhere the concept of "fastest losers" has been scrapped in all events from 1500m upwards. Instead, qualifying from rounds of the 1500m, 3000m steeplechase and 5000m will be based purely on positions, not time.
A curious omission, though, is the 800m where the "fastest losers" system will remain in place.
Seeding for lane draws in track events has also been tweaked to create a different allocation after the first round, following feedback from athletes and coaches.
In throws events athletes have not been able to use their own implements if the same models are on the list of those provided by the organisers but this restriction has now been lifted.
These rule changes will be used at World Athletics events from Budapest onwards but some have already been in operation at the World University Games in Chengdu this week.
» Subscribe to AW magazine here