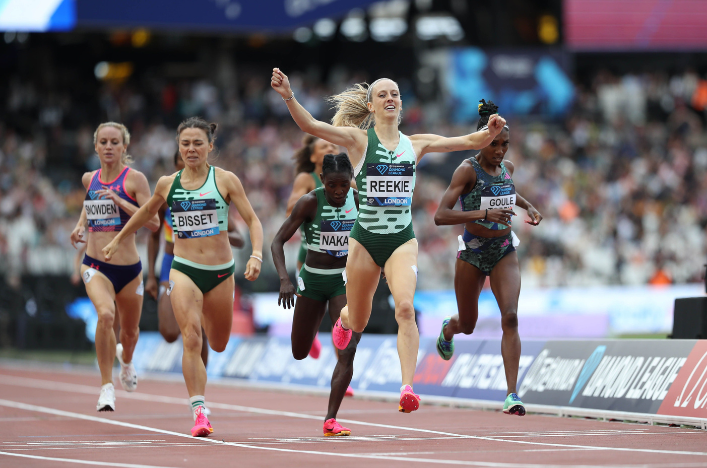 Above: Jemma Reekie sails to victory in the 800m – pic with thanks to London Diamond League
The London Diamond League saw a host of sparkling performances from Scots at the former Olympic stadium on Sunday
In front of a sell-out 50,000-strong crowd at the London Diamond League, Megan Keith admitted she had stunned herself as much as anyone when she knocked an extraordinary 35 seconds off her 5000m PB, finishing just inside the World Champs qualifying time, with a run of 14:56.98. Coming just days after becoming European U23 Champion in Finland, it was a superb run in a world class field.
Megan said: "It was crazy. I knew it was going to be fast, the plan wasn't to hang on to the group but I went out on the first lap, tried to leave a gap, realised I went through 70 and just thought I'll just latch on and see how far I can go. Sub-15 started to feel more and more doable as I saw and heard the lap splits, but I still can't quite believe it."
Jemma Reekie notched up a fine victory in the 800m, producing a confident performance and a season's best and meet record of 1:57.30.
"I'm in a really good place in training and I've just lost a bit of that race confidence but it's definitely getting back, and it's coming back in time.
"I'd have liked to have kept that lead just for a smoother race but it was probably a good learning curve for me that last 200 just to stay calm and keep strong down that home straight."
There was also a PB for Neil Gourley in the 1500m of 3:30.60, with a photo finish putting him in 3rd place. It was a strong performance as he winds up for the World Champs, but one which he said had left him with a few tweaks to make: "It was exciting, I was a little disappointed with the way I executed, but really happy with how I felt really happy with how my body physically was performing, I just made some little mistakes and left myself little bit too far behind.
"I can't give those high level world class guys that kind of room, but at the same time, I'm happy with how I closed, I just wish I'd been a little bit closer.
"I feel like I'm really coming around at the right time, much like I did indoors, I think I'm getting better with every race."
It was a great day also for Alyson Bell, who raced in the 4x100m relay with her teammates from recent European U23 Championship relay victory, Cassie-Ann Pemberton, Amy Hunt, and Aleeya Sibbons. The four had set a Championship Record with that run in Finland, but beat that time in London with an impressive 42.92 run.
Alyson said: "It was so good, coming off the win at European U23s and the Championship record, we thought that time 43.04 was ridiculously quick, and coming here, we were like 'There's no pressure, just a bit of fun, get the baton round, experience a huge stadium'. And then to get sub 43, like 42.90 is far the quickest I've ever been in so it just feels really good."
She said of the huge crowd: "I told myself 'Maybe don't look up 'til you're done!' – but just hearing the crowd cheer, I had a little peek up and having that cheer behind you definitely helps."
There was a tight finish for Guy Learmonth in the 800m which saw him finish in 4th place with a run of1:44.80 for 4th place – super-close on the line.
He said: "That's a huge step in the right direction, I knew it was there and I'm pretty happy with it I think I almost produced the best race I've ever ran. I'm a few races short of where I want to be but that's very big for me, I've not done that in a long time, so I'm happy."
There were strong performances in several Para events at the meet – in an exciting men's 1500m ambulant race, a late surge from newly-crowned World Champion Ben Sandilands saw him win in 3:52.95, overtaking Owen Miller who finished in 3:55.54, with Steven Bryce notching up a SB of 4:01.98 in 5th.
Samantha Kinghorn gave a strong finish to win the wheelchair 800m in 1:46.57, with Melanie Woods 6th in 1:52.07.
And for Maria Lyle it was a 14.62 run for 5th place in the women's 100m ambulant.
Tags:
Alyson Bell, Ben Sandilands, Guy Learmonth, Jemma Reekie, Maria Lyle, Megan Keith, Melanie Woods, Neil Gourley, Owen Miller, Samantha Kinghorn, Steven Bryce